Back to New Main Navigation page
Back to Old Main Navigation Page

Mind - Muscle - Rigging - "Connection" - Focus

The Rigstar Training and Testing Center was established in Dec. 1998
to establish hands on and class room training with testing procedures to prove one's knowledge and competency of
world wide standards of rigging in the concert, theatrical and motion pictures industry.

Steven Kendall along with other established riggers in late 1968 inovated the concert industry by hanging the sound and lighting in arenas througout the world with electric chain hoists being used in the inverted position. Steven Kendall along with the other established riggers formulated procedures of ground rigging and high rigging that became to this day the standards in our industry.
"A Higher Level of Training & Certification"
Some believe that Practice makes perfect?
"Perfect Practice is what makes Perfect"!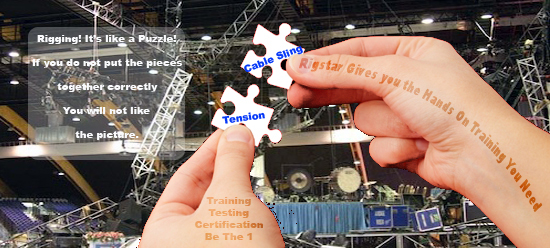 " The First and only Rigging Training, Testing and Certification for Concert, Theatrical and Entertainment Riggers in the world "
Since 1998
Setting the Standards for Certification of Rigging Competency
Within the Concert / Theatrical / Live Event Entertainment Industry
Offering 1 Certified Rigger's Certification photo ID Cards and a Certificate of course completion.
3 levels of Classification within our Certification program.

Click here for details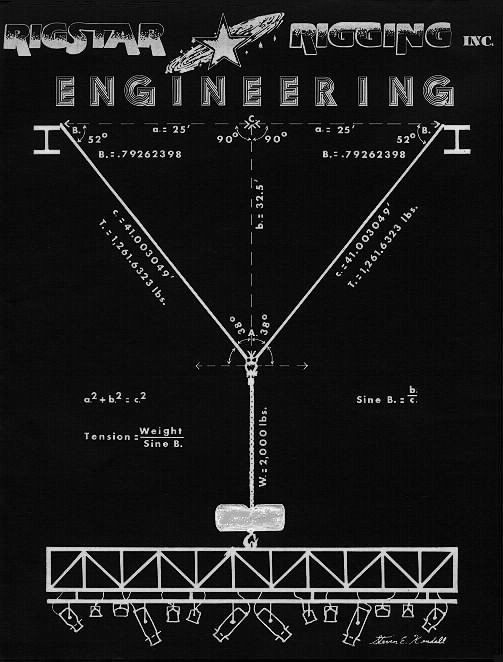 Rigging Requirements: 5 Main issues that will become clear!
1. Competent person: Who is a competent person?

2. Adequate rigging equipment: What equipment is
adequate for the job?

3. Inspection Requirements: How often should
equipment be checked?

4. Proper Application: Is the equipment being
properly used?

5. Who is Liable: Who is liable if an
accident occurred?
---
We have added over $20,000 of additional steel to our training structure for a new rigging course:
Application - Rigging School Schedule 2020 - Course Outline


All classes at the Rigstar Training and Testing facility are limited to 6 students, giving more attention to each student's needs.
See our Rigstar Video Trailer that will be seen at Trade Shows:
The RIGSTAR Training and Testing Center offers a 7 day hands on Rigger's Certification course.
Course name: "The Complete Rigger" For more info on this course click on "Course Outline" above in yellow letters.
This is the most comprehensive hands on training course in the world!

2 days extended Course: For those that have very limited hands on rigging skills we suggests that you add the extended 2 days.
7 day rigging course, 82 hours. We also offer a 4 week rigging course for the Level 3 Certification, call for details.
See application form for all current rates.
Renewal Certification cost: $400.00 This is an online test.
Refresher courses for anyone of our subject classes can be taken. Call for details and pricing. This is offered to only those students
that have already taken our 7 day Certification course.
7 days Extensive Hands on Rigging course added, named: "Right To The Point"


The course has been designed to teach those that are wishing to know how to rig on open steel structures as well as theater grid rigging and ground rigging. The course is right to the point of hands on rigging without needing to have the knowledge about Trusses, Electric chain hoists, and Motor Control Systems. They would rather leave those elements to other technicians.
The pricing is for the 7 day course. See application form for current rates.
For more info on "The Right To The Point" course outline please click on ENTER
NEW!! Starting 2019, "Advanced Rigging" 7 day course.
We added over $20,000 of additional steel to our training steel structure.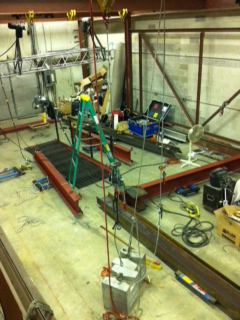 We have added Horizontal H-Beams, Diagonal H-Beams, Catwalk, and Steel Trusses.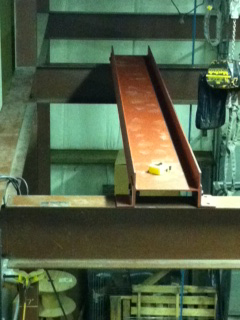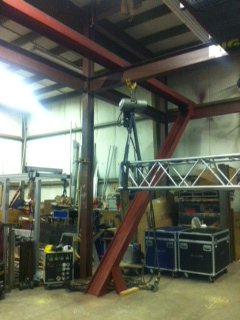 click here to see additional pictures

The "Advanced Rigging" course encompasses a review of all the" Right To The Point" course as well as many more rigging scenarios in real
life applications that you would come across in arenas, theaters, hotels, convention halls, and outdoor roof sytems. For more details click on ENTER
or call 1(413) 585-9869
"Construction and Industrial Rigging Certification Course Offered"
Courses conducted throughout the year with no more than 6 students. ( See application form for current rates )

For Details Call: 1(413) 585-9869
"Saving a life is worth the training and knowledge"
"7 days, 12 hours each day, highly extensive rigging course especially designed for the Construction and Industrial industry."
The 7 day course starts on a Monday at 8:00 am to 8:00 pm and finishes on Sunday at around 11:00 pm.
We highly recommend the 7 day course for those with little to no knowledge of rigging.
Covered subjects such as: OSHA and ANSI regulations, Rigging Hardware, Construction and Testing of Slings, Inspection of
Rigging Hardware, Math for Sling Bridling, and Tension for sling angles with Horizontal and Verticle Force Calculations, Distribution
of Loads, Balancing Loads, Fall Protection and Rescue, Ropes and Knots, Ground Rigging, Use of Load Cells, Use of Lasers, as well
as Mechanical Advantage of Block & Tackle are a few of the Hands on and Class Room topics we get you involved in learning. At the
end of the course there will be a hands on test at our facility and a online test for Certification of Competency. Each student will receive our Training
Manual, and a laminated certificate of completion. Those that pass the hands on and online certification test will receive a photo ID Certification card
as well. Each student is logged in and out for each subject on our computer for documented hours attending our course. Each students test
results are viewable online at any time by entering their login information that will be issued to them on the last day of the course. Some of
the students that have attended are from companies such as EG & G, L3 Communications, Musco Lighting, and Balfour Beatty Infrastructure,
Inc. to name a few.
If you are looking for "Hands On" rigging training that is more comprehensive and beyond your normal crain rigging training,
then the "Rigstar Training and Testing Center is the place for you for the ultimate "Construction and Industrial Rigging" ever offered.
For more info on "Construction and Industrial Rigging" course outline please click on ENTER

There is no other facility in the world that offers more training on a hands on basis with so many topics than the Rigstar Training and Testing Center.

"Come Feel The Knowledge"

" Schedule a group Rigging training and seminar at your facility tailored to your needs today "
From the Basics to Highly Comprehensive and Detailed, touring and in house rigging
as well as a Specially designed course for the Construction & Industrial Industry.
I.A.T.S.E. Locals - Arenas - Theaters - Colleges - Convention Centers - Production Companies - Lighting, Sound, and Video Companies - Hotels
" There is no limit to class size " Call for details today!
There is no room for compensating for correct and professional complete rigging training that is dedicated and specific to the Concert, Theatrical, and
Entertainment industry. That which will give you Hands On and Class Room Training, along with hands on and written exercises to perform and then
to be tested on your final skill level. " Picking any other Rigging Training and Testing Certification course, other than Rigstar, would be Compensating "

There is no other rigging facility or training and testing center in the world that is completely set up that teaches the complete aspects of Concert, Theatrical
and Entertainment Rigging. Detailing tour rigging and in house rigging in multiple facilities and conditions. Communication skills between the two is paramount
and essential between house rigger and road rigger also for a smooth and safe rigging day. Compare and you will see, RIGSTAR will be your first choice!
---

"" More new benifits for attending the Rigstar Training Course ""
Read whats new and being added. Keeping you informed. Click on picture above to enter.
Mr. Mike Rape and Mr. Kevin Barnhill of the Marriott Woodlands Waterway awarded Class B Level Riggers certification
Go to the News Room to read more and keep updated.
---
We now offer a 4 week Certified Rigger's Class for those wishing to become a tour rigger.
This is the first course ever offered by any company to certify a person as a Concert / Theatrical Rigger.
This is a very rigorous course that is quite demanding of each individual and will be issued a double AA Classification Photo ID Certification on completion of the course. They must meet all requirements and pass the hands on and written test.
Class size is limited to six participants.
The class will be conducted 5 days per week, 10 hour days Monday through Friday with Saturday and Sunday off, for 4 weeks.
For those that are interest and are dedicated to becoming a tour rigger, contact Steven Kendall for details.
---
Featured Students



View some Pictures of a Rigging Class


Above is a Flash Animation. If you only see a blank white square box, then you will need to down load the newest Flash player.


Mr. Lucanus Lackey, Featured Student above.


Miss Sloan Harden, Featured Student above.

Congatulations to Mr. Syamya'el Ahmad & Mr. Saad Emi from the Marina Bay Sands Hotel, Casino, and Convention Center, Singapore
who attended the 4 week Level 3 Complete Riggers course and passed the Level 3 Riggers Certification of Competency. Jan. 6-31, 2014
They each logged in 170 hours of training and testing.


Above: Changing the bridle leg from the apex...Calculating and Landing the point right on the mark...Calculating and Landing the point right on the mark
Below: Hanging every calculated bridle, 2 leg, 3 leg, H-bridle, Breast bridles, dead hangs.




Below: Learning how to hand from a Catwalk.....Learning how to use different types of ascenders & descenders.....Rigging on a Theater Grid




Below: Rigging procedures on a theater grid........Learning the components of a counter weight system and how it all works together





Your's truly just monkeying around during their class of suspending underneath a beam to hang points.

------------------------------------------------------------------------------------------------------------------------------------------------------------------------------------------------------------


Congratulations to Libby Eiden who is one of many women that have earned their Level A Rigger's Certification here at the Rigstar Training and Testing Center.
She is shown above left assembling one of her many bridles she had to mark out on the floor, calculate the bridle lengths and then pull up to the steel as shown
in the picture above right. As you can see from the picture above center, it was nothing less than perfect. She never rigged before coming to the 7 day Rigstar
A Certification course. It was quite a transformation from the 1st day to the 7th day to see her accomplish a high level of confidence in herself along with learning
one of the main issues taught here in the meaning of the word " Competency " and that she did quite well. Libby is a Freelance worker out of Oakland, CA. area.
| | |
| --- | --- |
| | |
Congratulations to Eleanor Moore for achiving her A Rigstar Certification.
Eleanor is a graduate of Emerson College, Boston Massachusetts with a BFA degree. She is a Freelance worker in lighting
and now has her Rigger's Certification from the Rigstar Training and Testing Center. She is presently working out of New
Orleans, LA area. She is picture above left adjusting a bridle leg to put her point perfectly on the mark as shown in the above
picture to the right. Does it get any better than that? Not for any professional riggers I know. She worked hard throughout the 7 day training.

Steve,
just got done with Dave Matthews at our local shed. The class not only gave me confidence in myself, but rigging points for 12 hours on the 2 extra days made this 2 hour load out seem WAY too easy.
Thanks again.

Michael









Congratulations Michael Ehman on becoming an A Certified Rigger

.
The Rigstar Training and Testing Center is very proud of your achievements. Keep up the good work.
Michael is pictured above practicing one of the many exercises that he must perform in our A Certification
course and the results speak for itself in the picture to the left. It doesn't get any better than that, Right on the mark!


Michael works out of the Pittsburgh area as a freelancer and along with the I.A.T.S.E local union.





Rigstar Training course for Events Services personnel A.V. Dept. at Marriott Boston Copley Place - Boston, Massachusetts
---

Highly Recommended veiwing by All. Pictures that you will never forget!
Click on above picture to see more broken Trusses at facilities and Fall arrest Violations. You will need Flash 8 to veiw the next page.


Don't let this happen to your equipment or facility! Know your riggers quaifications! Hire only Trained, Tested , Certified and Insured Riggers!

Click here for OSHA Inspections PDF file (41 mb)

Click on picture above to enter. New videos each week.
---
Click on above picture to enter. New things to be happening in rigging Certification! Don't be left out without proof of training!
" No credentials, No Rigging work on the job site." Slated for 2007 - The Push is on!
---
You Need to feel confident in the person teaching and training you to become a competent rigger yourself !
Fact: "You can not become competent by just reading a book, looking at videos and watching some one else"
We give you the correct hands on training that solidifies it all - Your personal involvement at every level
with an honest assessment of your rigging abilities at the end of the course. The Rigstar Certification Course!
Steven Kendall is now an official OSHA Authorized Construction Outreach Trainer as of March 24th, 2006
The New Rigstar Training and Testing Manual will now include OSHA Sub Parts of the OSHA
construction federal guide lines book that would also pertain to our industry. Become
Trained, Tested and Certified by the #1 Facility in the World, RIGSTAR!
Steven Kendall has just completed his training and testing on March 24th, 2006 and is now an OSHA authorized trainer to conduct
10 and 30 hour Construction outreach training. Work that is done in the Arenas, Theaters, Convention Centers, Stadiums, Clubs, Hotels,
Churches and so forth are all under the Construction format of the OSHA's Federal guide lines and SubParts and must be followed for any
employer and employee to be in compliance of the laws in the United States of America. Heavey fines can be given to any employer
that is in violation of any OSHA safety and health standards. Steven Kendall is now able to issue OSHA outreach training cards to those
that have been trained by him and tested. This is now another added benifit to become Trained, Tested and Certified at the Rigstar Training
and Testing Center than any other facility in the world. " Who would you rather be trained by now "
On May 10th, 2006, Steven Kendall has completed The Crosby Group inc. ASME / OSHA Train the Trainer course and
is now a Crosby authorized trainer. There was 15 topic panels with multiple questions for each panel that had to be answered
with a score of 100% for each panel topic to pass. A total of 162 questions.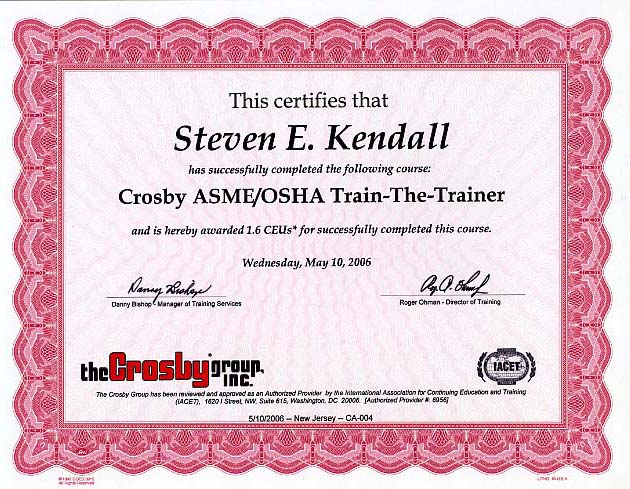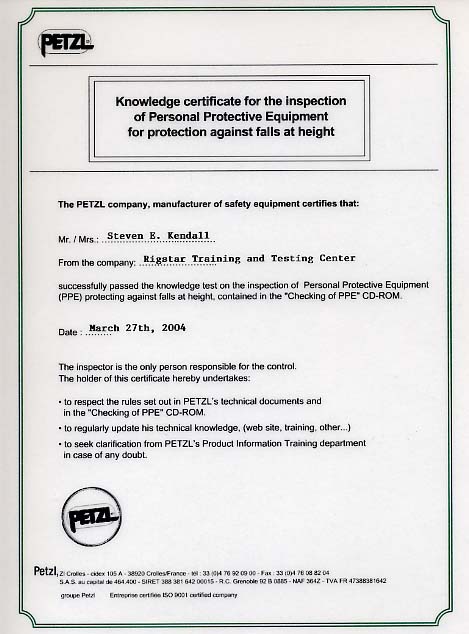 On March 27th, 2004 Steven Kendall has passed the Petzl PPE test.
Steve is now a Petzl Certified inspector of Personal Protective Equipment.
Steven Kendall has been involved with the CM Lodestar since 1969 utilizing the hoist in the inverted position for major
concert tours and live entertainment shows as well as installations. Knowing the hoist inside and out you may think why
would he need any certification? Steve decided to attend the CM Certified Hoist Technician class in Damascus, VA in
December 2010 to update his knowledge of any new changes that have been implemented by CM over the years that he may
not know of. He wanted to be tested of his vast years of knowledge of the CM Electric chain hoist and passed CM's
Certified Hoist Technician test on December 14th, 2010 to prove once again his knowledge of teaching an extensive
electric chain hoist class at the Rigstar Training and Testing Center. Above is Steve's Certificate and ID Card issued by CM.
Steven Kendall continues his own training and testing to perfect his rigging skills as the number 1 Rigging trainer in the world !
Credentials mean a lot when picking a rigging training and testing facility and we have it all here at the Rigstar Training and Testing Center.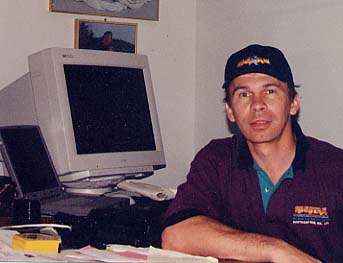 Steven Kendall ...... Steven Kendall teaching desending with Petzl ID.......Student deminstrating hands - feet - body techniques taught by Steven Kendall


A group picture of a few of the hundreds of applicants that have trained and have been tested at the Rigstar Training and Testing center.
Click here to open a 5 mb PDF file of a Rigstar Survey sent out January 2006. Honest answers returned from past students. Hear what they had to say.
I wanted to send this survey out to hear back from past students to learn about what I can do better for future classes and I thank everyone that responded
to the Rigstar Survey with your honest answers. I learned a lot from this survey and I will be implementing some added features to each class in response.
You must have Adobe Acrobat Reader on your computer to open the above PDF file. Click logo to get free down load Adobe Reader
Steven Kendall, considered by many in his field as a Master rigger and innovator to the advancement of concert and theatrical rigging, along with patenting, designing, engineering and manufacturing of new product lines, has decided to start his own rigging training and testing center which he thought of doing back in 1980 but was too busy in touring the world working on major concert tours.

All his life he has been involved with show business. Trained in playing guitar in bands and Attended Berklee College of Music in Boston, MA., working on lighting and sound, and then came the love of his career "Rigging"!! Steve is a member of the I.A.T.S.E. local 53 in Springfield, Ma. U.S.A. and has been involved with the union all his life. He gives much thanks and praise to his father, Larry Balland, who brought him into the union and the show biz life back in the early 50's.

With his vast amount of knowledge in rigging , testing, materials, formulas, designing, manufacturing, and consulting for some of the largest name companies in the world and all around hands on practical experiences makes him one of the most qualified riggers in the world to teach this complete course of hands on rigging.
"The worlds first truly complete Concert / Theatrical Entertainment rigging training and testing center"
The world's most complete Rigging, Training and Testing center that any person can ever imagine to learn in, all under one roof! There is no other place like it in the world today, but at Rigstar. The hands on course will teach you and make you more competent in your rigging and safety abilities than ever before in your life.

Safety is the number one priority above all else! This hands on experience is worth more than any book can ever teach you alone. You can come to RIGSTAR to gather some of the more than 38 years of concert and theatrical rigging knowledge that Steven Kendall has accumulated throughout the vast amounts of situations that he has personally experienced in rigging. Steve's experience and training in rigging within concert arenas, theaters, stadiums, outside roofs, trade shows, convention halls, hotel ballrooms, along with fabrication of many products are for the advancement of everyone involved in show business in one way or another. Steve has toured as head rigger with such shows as Heart, Kansas, Lynyrd Skynyrd, Jethro Tull, RUN DMC, STYX, Phish, Depeche Mode, Barbra Mandrell, J. Geils Band, Howard Jones, Iron Maiden, and Ice Capades just to name a few. Steve also has worked on motion pictures, stage plays, trade shows, Republican and Democratic conventions. All with out ever having an accident. Consultant for many product lines such as designing the interior hanging skeleton of the famous EAW 850's sound cabinet and one of the Klipsh sound cabinets series along with many sound hanging bars. Consultant and designer for arena and theater Truss and grid systems. Inventor of the famous K-LINK rigging slings, the Jam-Free chain guide for the Rigstar chain hoist, the new Truss Hangers, innovator of laser rigging techniques and software.

Be part of the ever growing group of people that wish to make this industry the safest in the world now, not later, but right now! There is no greater gratification than to save a life by doing a job well done the first time and being able to teach others of your true knowledge. "Honesty will be the integrity of all great riggers". You will never have to bullshit anyone again, when you have the personal hands on training that you can receive when attending the RIGSTAR Training Center!

The RIGSTAR training center will be known world wide as the center of Rigging excellence for all that are fortunate to attend. For production managers to seek out up and coming new riggers in their field for touring. For theater and arenas in the world to have the finest trained riggers in their facility.

The RIGSTAR Training and Testing center is run every week, year round, with a life time dedication to the advancement of the Concert / Theatrical Entertainment rigging industry. Not just a few times a year like our competitors, but every week. Now that's dedication to the field!

Each attendee receives the Rigstar Training Book, Rigstar Calculator, Cross reference Bridling charts, and most of all

"" Hands On & Class Room Knowledge ""

Some of the training booklets and videos used in the class room.

Each attendee will now receive Crosby's CD that is packed full of videos. We give this a 2 Thumbs Up !!
Also Crosby's Catalog book will be handed out.

Each attendee will receive the new version of Crosby's Theatrical and Stage Rigging 16 page pocket laminated fold out card.
A great referance card to keep on hand at all times in your wallet, pocket or rigging bag. " Don't leave home without it "

Having good organizational skills is a must!

Advancing the rigging call
Moving in
Assessing the steel structure
Marking out the points
Calculating the hang and tensions
Climbing up the ropes
Walking the beam
Pulling up the point
Attaching to the steel
Repairing the hoist
Fixing the controller
Packing it all up and moving out
Feeling proud that you've done another great job with out an accident!!

Who can benefit from coming to the Rigstar Training Center?
Simple! Everyone! Whether your involved in lighting, sound, video, staging, scenic carpentry, props, stage management, facility operation management, company owners, college and university students and staff involved in a theater program, manufacturers, installers, contractors, inspectors, consultants, engineers, designers, free lance riggers, rigging companies and members of the I.A.T.S.E. Most likely you can be sponsored to attend by your local union, school, venue or company that you work for.

Why do more people around the world pick Rigstar as the #1 Rigging Training facility in the World?
Rigstar is not just about high rigging and ground rigging training. Rigstar is about Training in all aspects to make the Complete Rigger.
1. We Manufacture Hoist Control Systems.
2. We Manufacture: Polyester round slings, K-Link slings, Steel cable slings, and High Tech fiber slings.
3. We are able to do inhouse fabrication.
4. We have our own 200,000 Lbs. Pull Testing machine for proof loading and break testing slings, ropes, and equipment.
5. We have our own inhouse specialy designed steel rigging Grid to practice in real world rigging condition, HANDS ON.
6. Hands on Training and Class Room Training with practice exercises.
7. Ground Rigging as well as High Rigging
8. We train in all aspects of each rigging component, from electric hoist controls, electric cables, Measuring power in a building and Amperage draw , rigging hardware, tools, equipment, Fall Arrest, Math Calculations, Trusses, Speaker Hanging Bars, Ropes and Knots, Nuts and Bolts, Structural theory and so much more.
9. We give you reasons why throughout each aspect of our training and not just tell you something to hear.
10. Our 6,000 sq. ft. modern facility is specialy designed for training and testing.
11. You are given the Rigstar comprehensive training manual to keep, that is quite extensive along with materials from contributing companies.
12. Major corporations such as, James Thomas Engineering, The Crosby Group, Surety Fall Arrest ( MSA ) , The National Telephone Supply Company ( Nico Press ) New England Rope, Miller Fall Arrest, contribute to the Rigstar Training and Testing facility and attending students on a yearly basis. Why?
Because they recognize the complete aspects of the high quality of training and testing that is taught at our specialized training facility.
12. Small class size. No more than 8 students. Special attention to each students level of learning.
13. We have 3 levels of Rigger's Classifications. 1, 2, 3.
14. We issue you our Certified Rigger's photo ID card along with a Rigger's Certificate of course subject training. Specifying subjects, hours, dates attended and signed by trainer.
15. Taught by Master Rigger, Steven Kendall with over 40 years of hands on touring and in house rigging experience, throughout the complete course.
16. Hopefully Coming up starting this year, every student can access our video training FREE. Such as tying knots, bridle calculations, hanging trusses, use of and understanding the inside wiring of motor control systems ( all parts ), use of and understanding electric chain hoists ( all parts ), Block and tackle theory and calculations. It's a complete recap of the week long course in Quick Time video format.
17. Rigstar is dedicated to Certified Training and Testing on a full time basis, year round, logging every hour for each subject trained in and Testing for each student.
18. All aspects of the Rigstar course for each student is documented.
19. The Rigstar Rigger's Certification course is the most comprehensive Rigging Training and Testing course in the world.
20. 100% positive feed back from past students. Click here to down load or read a PDF file of what the honest opinions were of past students.
21. " Rigstar is The First and longest running company to issue Rigger's Testing and Certification of Trained riggers. Rigger's Certification and Competency"!
22. " There is no other facility or company that has it all and does it all as the Rigstar Training and Testing Center. "


Type of rigging Training:
The Rigstar Rigging Training is specific to but not limited to rigging in: Arenas, Theaters, Hotels, Out Side Concert Roofs, Churches, Night Clubs, Convention Halls, Banquet Halls, Production Studios, Flying people, Along with Special Effects rigging inside and out side.

We have put together a special class for the industial industry now that involves class room and hands on training for Rigging hardware, Sling construction, inspection and Break testing, Math for bridles, tension on slings, horizontal and verticle forces, ANSI and OSHA regulations, Crosby video training, Mechanical Advantage of Block and Tackle, Knots, Hands on ground rigging for balancing as well as suspending loads with rigging hardware - spreader bars - and a basket, Full course on Fall protection and rescue (class and hands on). We can tailor the course to any groups needs. Call for details.

OSHA : It is the responsibility and liability of each employer to make sure that their employees are professionally trained before letting them conduct any such rigging task that they may be asked to perform which could endanger the safety and well being of others.
Documentation of such training is one of the key factors of liability.

Qualifications to Attend:

The willingness to learn and do!
Being humble!
Not having an attitude!
Be able to read, understand, comprehend and speak the English language is a must in succeeding in our rigging course.
Should be able to read and understand all marks on a scaled ruler.
Should be able to change a fraction into a decimal number and understand the decimal number system.
Must be able to conduct basic math functions on a calculator such as Add, Subtract, Divide, and Multiply is a must.
No one will be allowed to start a course by arriving sick with the flu of any kind. You will have to reschedule to another date.


Each participant will:

Manufacture a two channel control system from start to finish
Manufacture a synthetic round sling
Manufacture a steel cable sling
Manufacture a block and fall
Make up dead hangs, even and uneven bridles at same elevation, even and uneven bridles at staggered elevation, two, three and four way bridles, H-bridles pro's and con's, sliding bridle
Hitches on steel structures; choke, basket, split basket
Rigging on a theatrical grid and open arena grid
Proper way of hanging lighting and sub grid trusses.
Using Full Body harness & Fall Arrest equipment along with mountain climbing equipment for climbing and hanging.

Each participant will learn:

Maintenance and repair of chain hoists
Maintenance and repair of control systems
Use and workings of a computerized control system
Use of a digital preset counter
Laser rigging techniques
Load and break testing
Fall protection
About wire rope and slings, all rigging hardware
Math formulas for bridles, tension, angles, sine of the angle, block and fall loading, (multiplication factors for snatch clocks), calculating mechanical advantage for block and falls, load angle factors, weight = volume x weight of materials
Knots
Correct and incorrect use of rigging materials, hardware and installation rigging practices
Lighting truss systems and strengths of different grades of nuts & bolts
Speaker hanging bar systems
Bending moments of materials, deflections
Side loading, compression
General information:
---Safe loading on timber beams and columns
---Schedule 40 and 80 pipe data
---Weight of steel round stock
---Weight of steel sheets and strips
---Decimal equivalent
---Hand signals when working with a crane or cherry picker boom truck

This is just a partial list of what you will be involved in with the RIGSTAR Training & Testing center course.

---
Persons flying in should fly into Bradley International Airport, Hartford, CT.
This airport is approximately 40 minutes from Northampton, MA.
Transportation: As usual, there are car rental companies at the airport or the best way is by a company called
Valley Transporter 1(413)253-1350 or Toll Free 1(800)872-8752 A phone is located at the baggage claim area at the airport. It would be best to call ahead to make a reservation with them . They can drive you directly to your hotel and back to the airport. The fee is $53.00 each way. There is a 15%
adder if you call the same day, so call ahead of time and make a reservation with them.

On the first day of each course, each person will receive text material.

Upon completion of the course, each person will receive a certificate of completion stating the outline of topics trained in and how many hours was put in for the week's training, which is 50 to 60+ hours. See sample of Certificate.

Each person attending will be added to our computer database for our records, stating which course they have completed and a rating test at the end of the course if they wish to take. This will be helpful for any employer to find out the potential qualifications of a rigger.
Only attendees taking the written and hands on test will be eligible for the Rigstar Certification Photo ID Card.

Special Classes tailored to a groups needs and conducted at your facility can also be arranged! Call for details.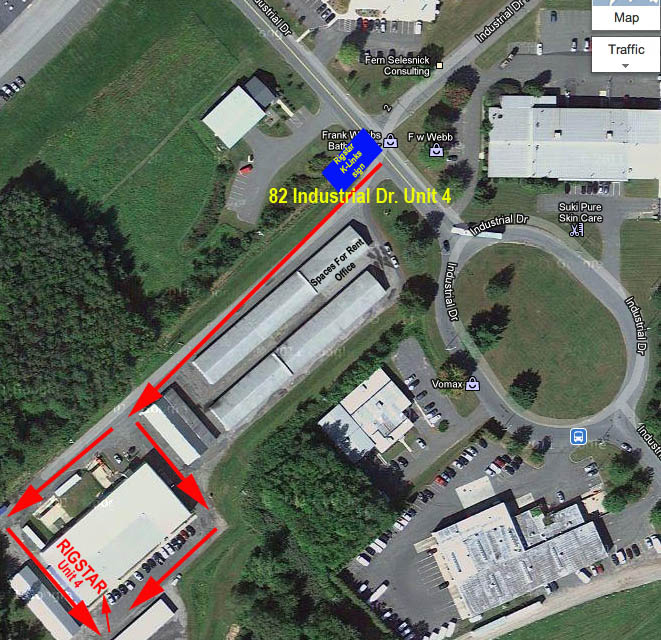 If you are driving to our facility traveling 91 North bound you would take exit 19 and then stay in the middle or left lanes and follow
the red lines to get to our building. See photos above. You can either take a left at the traffic light at the end of the ramp and travel
to Day Street and take a right turn which would follow onto Bates St. or go straight through the traffic light on to Damon Rd. and
then take a left onto Industrial Drive.
---
Lodging is available at special rates at the following hotels.
Mention Rigstar Rigging and ask for our corporate rate.
Hotel Northampton

36 King St.
Northampton,
Ma. 01060

Phone: 413-584-3100 --
Fax: 413 584-9455

Right in the center of town.
All Town is Safe walking area.

Call for a rate. We do not have
any special rates set up at this time for this hotel.

---
Quality Inn & Suites

117 Conz St.
Northampton, Ma. 01060
Ph: (413) 586-1500
Fax: (413) 586-6549

1/2 Mile from center of town.
Safe walking distance and area.
** Moderately Priced**
$70. Sunday-Thursday
$70. Friday & Saturday
+ taxes
---
For restaurants and activities in the Pioneer Valley area visit:
Virtual Valley
Noho.com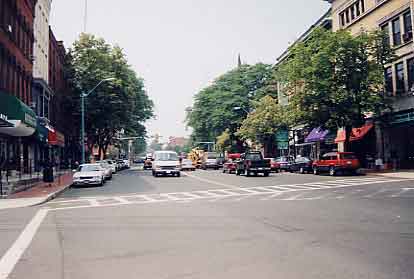 For more details call, fax or email Steve Kendall at RIGSTAR RIGGING
Phone: 413-585-9869
Fax: 413-585-9872

Rigstar Training & Testing Center
82 Industrial Dr. Unit 4
Northampton, Massachusetts 01060 U.S.A.
If you would like to be added to our email mailing list to be kept updated on
new products and services, please email us your information and we would
be happy to keep you informed.
email: RIGSTAR Rigging School
---
The Rigstar Training and Testing center would like to thank James Thomas Engineering
for their on going support and contribution of trusses and manuals to our training facility.
It gives the chance for all that attend to view and learn about one of the best engineered and
fabricated trusses in the world. Known as being a leader in R & D and quality of all their products.
Please take time to click on their Logo below to link directly to their web site to learn more about
all the additional fine products that they continue to produce for the entertainment industry.
---

The Rigstar Training and Testing Center would like to thank The Crosby Group for their
on going support with supplying outstanding and informative training videos and manuals to
our training facility. It shows how committed The Crosby Group is toward wanting to make
sure that rigging starts by knowing the materials and the safe use of their outstanding manufactured
products. Their commitment to quality and R & D shows in all their products.
We invite you to click on their Logo below to learn more about the Crosby Group and their dedication.

---

The Rigstar Training and Testing Center would like to thank New England Ropes for their contribution
and support in providing rope literature along with KM III Static Kermantle ropes for our repelling portion
of the course and for our temporary Horizontal life lines. The New England Ropes company has been
involved with the theater industry, for many years developing specialized ropes that solve the problems
associated with our fast paced industry that we are in. I urge any one that wants more knowledge about the
many ropes that New England Ropes manufactures that may solve a particular need you may have, to visit
their web site. You may click on the logo below to enter their informative web site.

---

The Rigstar Training and Testing center is grateful for the National Telephone Supply Company in supplying our students with
valuable literature of their world wide leadership in the cable pressing tools that they have been manufacturing for over 60 years
and is the number one cable pressing tool of choice in our industry. We train our students on the proper use of the Hydraulic tool
No. 635 to make up 3/8" cable slings and the added tool dies and cutter. We also utilize the multi-groove hand tool 63V-XPM
and 33V-CGB4 for pressing oval sleeves on smaller diameter cable slings along with their GO / NO GO gauge to check for
proper depth of each press each tool makes before we brake each sling in our testing machine.


You may click on their logo above to enter their web site to learn more about their hign quality tools and accessories.


Thanks to Miller by Sperian for their continued support to the Rigstar Training and Testing Center for providing
top quality fall protection harnesses, lanyards and rescue equipment so each of our students can be trained in the class
and hands on for Fall Protection and Rescue procedures according to the manufatures and OSHA guide lines.
You may click on the Miller picture above to learn more about the many products they offer.

The Rigstar Training and Testing Center is grateful to Pacific Laser Systems for supporting our rigging course with their professional quality lasers and literature. We look forward in training our students with, as we see it, with the best made lasers in the world for the Live Entertainment Industry. You may click on the link at our website to learn more about how PLS lasers can help you be more efficient and accurate in laying out your rigging points, staging and seating.

You can click on the PLS Logo to enter our page for more details.



The Rigstar Training and Testing Center has brought on board Rock Exotica's finest quality products to complement our
hands on Rigging, Fall Frotection and Rescue classes. We feel that Rock Exotic has innovative products that are highly
benefical to fall protection and rescue as well as general rigging equipment that goes beyond many other manufactures to date.
We thank Rock at Rock Exotica for providing his products to our company so we may further our training to the future students
that will be attending the number one Rigging Training, Testing and Certification facility in the world. To learn more about the
high quality products that Rock Exotica manufactures you can click on their logo above to enter their website.

Thanks to the J.R. Clancy Company for providing the Rigstar Training and Testing facility with a T-Bar single purchase, 2 line arbor
counterweight system. This will allow our facility to conduct hands on training for students in the correct, safe procedures and use of
counterweight components as well as correct inspection procedures.

J.R.Clancy company is renowned for their vast years of dedication and service to the theatrical industry, providing outstanding
quality of rigging equipment to theaters worldwide. To learn more about the J.R. Clancy company and all the services and products
that they offer, you may click on their logo above to view their website.

We are please to announce that InCord custom safety net solutions has agreed to provide safety guard nets for the Rigstar Training and Testing Center.
Without any hesitation after speaking with Erica at InCord, InCord and Rigstar were in agreement that the InCord safety nets would be a perfect fit to
combine safety and training of their custom made netting for all students that will be attending the Rigstar Training and Testing Center. We are very
thankful for InCords donation of their yellow Safety Guard netting so we may install them on our theater grid and at the end of our catwalk for extended
safety to all our students. There is no substitute for safety but safety itself and training. To learn more about the InCord company you may click on the
picture above to enter their website. If you have any questions please do not hesitate in contacting us for sales and installation of the InCord Custom
Safety Nets. Or you may go direct to our web page to learn more about the InCord Safety nets. click ENTER

In September 2016 we came across DMM International LTD, Professional products online and were amazed in the line of products
they manufacture and felt we had to contact them. We asked to get all their samples in BLACK of their swivels and
without any problems they agreed to accommodate our request and had them made and shipped to us.
The unique part of their swivels is that they not only come in a swival action but also in a swivel and pivot at both ends.
We are now a DMM distributor and will be stocking products that we feel will be useful in the Stunt Wirework field as
well as for Concert, Theater and Motion picture rigging. I was amazed by the quality and flexability of their swivels.
Thank you Joanne Simkiss at DMM for all your help and we look forward to a long and lasting relationship.

We have become a Ronin distributor and training facility for their battery operated ascenders.
Ronin has provided a demo unit for our rigging course and to conduct onsite demo's at your
facility. All the staff at Ronin are very nice to talk with and are quick to answer any questions
that you may have. We look forward to a long and lasting business relationship with Ronin.
You may click on their logo above to access their website directly or contact us for more information.

Click here for Links to Technical Sources
copyright 1998-1999 Rigstar Rigging