Installations and Site Safety Inspections
Give us a call today to set up a Sight Survey, Safety Inspection, or Installation at your facility.
"We do what we do best"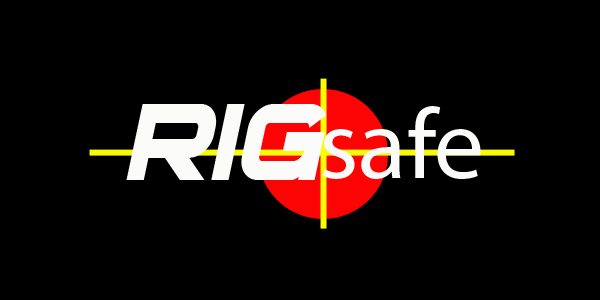 RIGsafe is a trade mark logo of the Rigstar company. All rights are reserved.
Over 44 YEARS of Rigging Experience
&
Diversification
Our specilty is installing for high profile clients and not so high profile.
We treat all our customers the same with service that has not been match by any other company.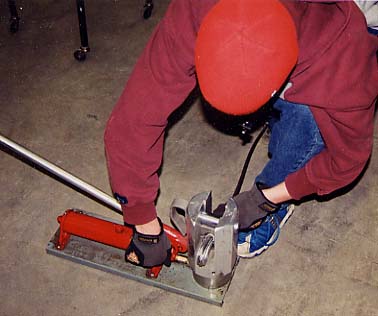 Fabrication can be done in our shop or on the job site.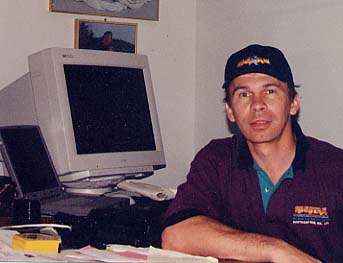 Engineering is thought out & drawn out on Cad and on a white board to see precise calculations.
This alleviates any errors that may be unforeseen before starting the installation on the job site.
Some times a mock up maybe performed in our inhouse shop and on our steel structure.
We make sure we conform to ANSI and OSHA regulation along with all other State and federal guide lines.
Two seperate programs are used for calculating forces and tension on the rigging cables and the structure.
Then there is a program to calculate deformation of materials.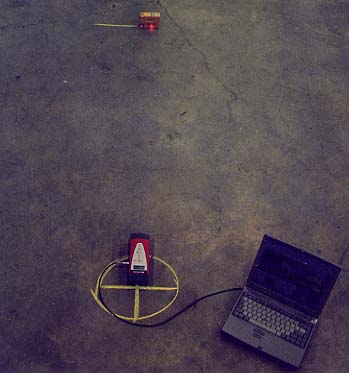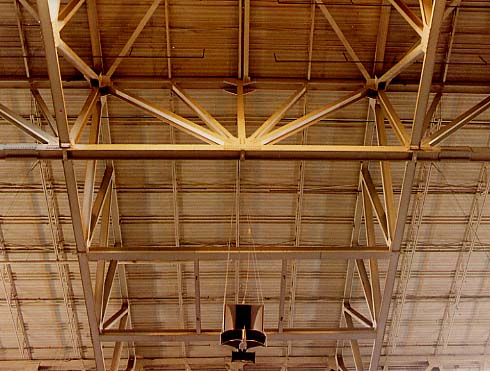 Measurements and pictures are taken when necessary of all pertinent information when we survey a facility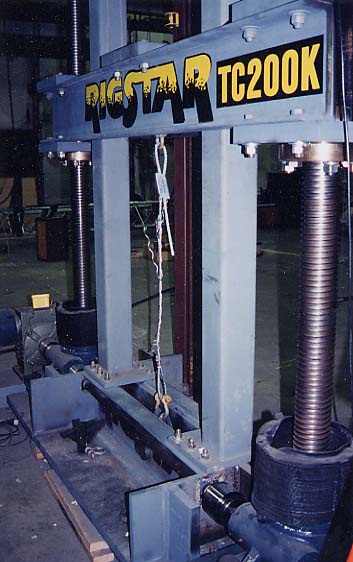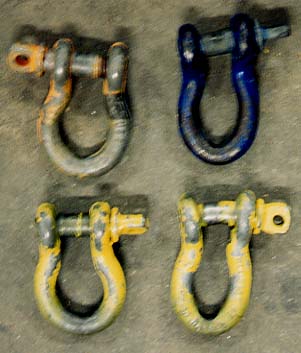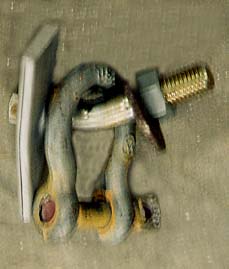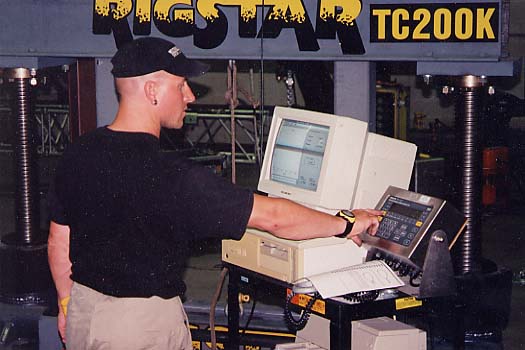 We have our own in house tension and compression testing.
We have first hand knowledge of what slings look like when they are broken apart, along with shackles, bolts, and aluminium.
This is hands on knowledge that most people never get a chance to see.
Our testing machine has the capacity up to 200,000 Lbs. and will also measure elongation.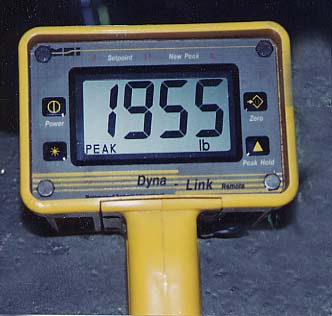 We have portable load cells that we can take on a job site that range from 1,000 to 25,000 lbs. capacity with100 ft remote handle.
We do alot of testing of materials before we will use a specific product for installation, along with testing our own designs.

Who ever it may be for, we have all the tools, personel, and experience to make it happen.
By the way, we treat all our clients equally.
---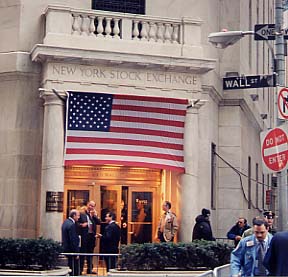 Installed 3 lighting grid systems in the New York Stock Exchange building for KL Production and CNBC / Permanent install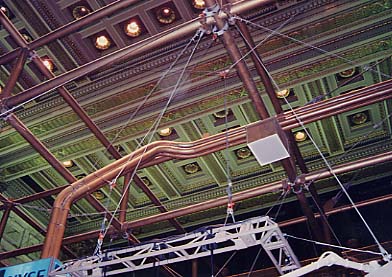 Precise calculation of bridleing was done to get each lighting truss grid exactly where our client wanted to have each grid positioned and the trim height from the floor.
Special pipe hanging brackets were fabricated and tested at our facility.
---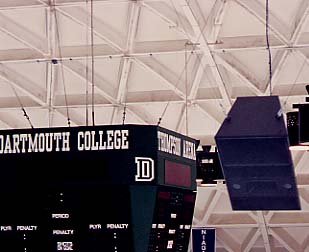 Dartmouth College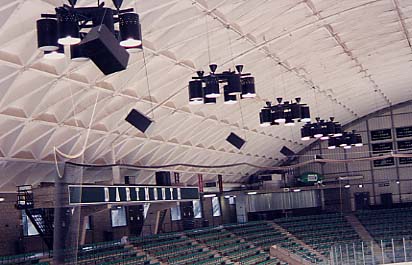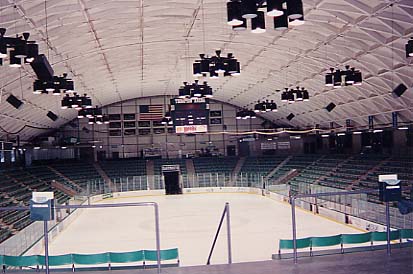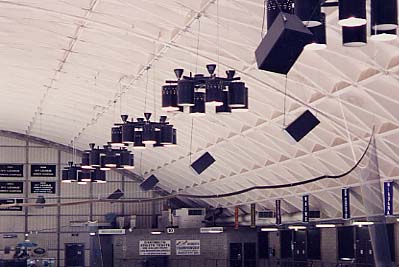 Permanent install of 12 EAW Speaker cabnets precisely positioned and angled for our client.
---
New York City Marriott Marquis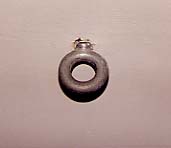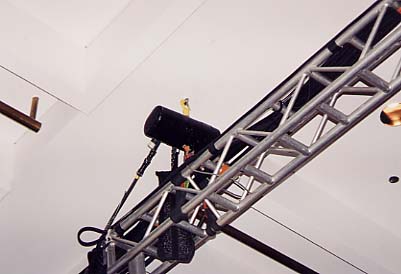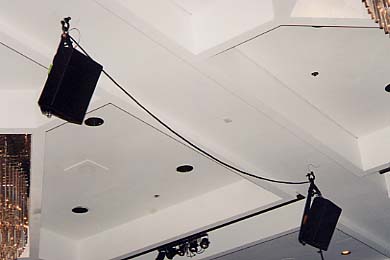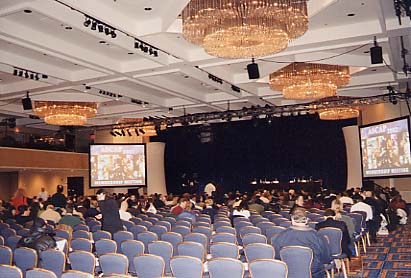 Installed 48 permanent eye bolt hanging points / insert drilling into concrete and welding to I-Beam structure along with special steel fabrication.
Points were marked out on the floor and then the ceiling was spotted with a laser from the floor.
We installed all eye bolt point in precise placement for just about any set up placement for lighting, sound, and video throughout the room.
---
The Basketball Hall of Fame Inshrinement.
Rigging 56 chain hoists by bridleing and dead hangs.
Sound, Lighting Trusses, Scenery Trusses, Video and Curtain Trusses.
All within very close tolerance of each other.
It's the way they wanted it and it's the way we gave it to them.
---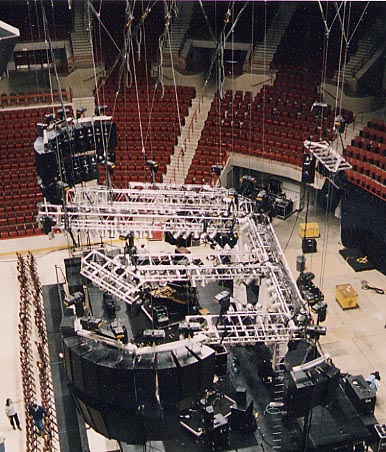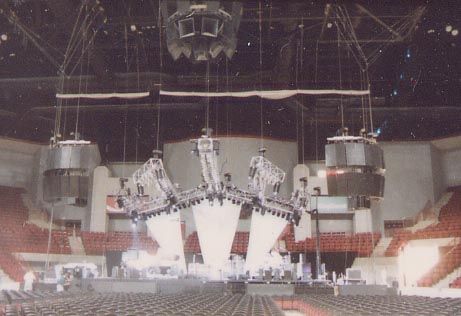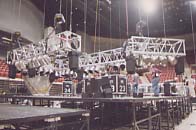 Touring with many famous acts such as Heart, Kansas, J.Geils Band, The Who,
Iron Maiden, Depeche Mode, Jethro Tull, Lynard Skynard Band, Run DMC, Ice Capdes,
Yabba Dabba Doo, Barbra Mandrell, Styx, and Phish just to name a few.
Giving Rigstar the opportunityto travel to and rig in many arenas, stadiums, theaters, outside sheds,
hotel ball rooms, tents, colleges and even airplane hangers to just name a few places along with many
other facilities, all without ever causing one accident.
---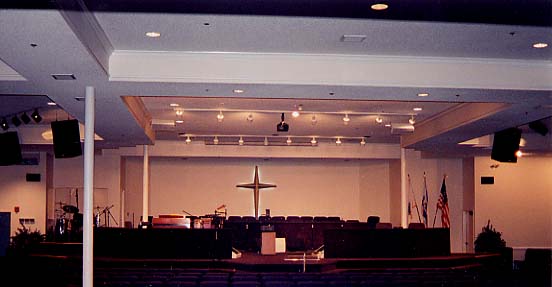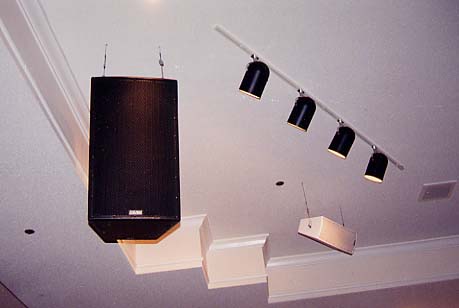 A laser was used to mark points in the ceiling sheet rock from the floor for precise placement of 7 EAW speaker cabinets.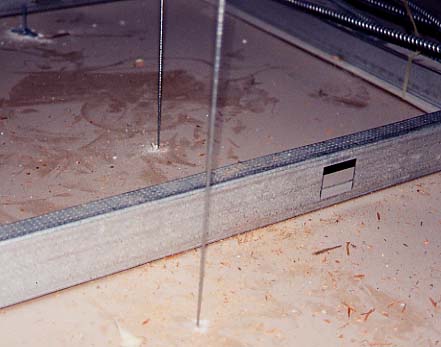 All steel cable slings were made in the ceiling and dropped through their respective holes in the sheet rock ceiling.
We installed pipes between the church's wooden 2 x 12s for our hanging points.
The working space was very tight and confined, about 3 and a half feet from sheet rock ceiling to wooden beams.
All EAW cabinets are hung from 3 points. 2 for hanging the cabinets and 1 for precise angleing.
A very clean and precise look!
---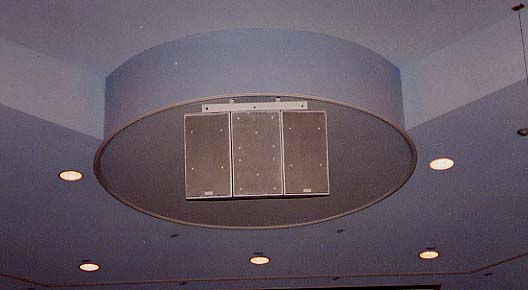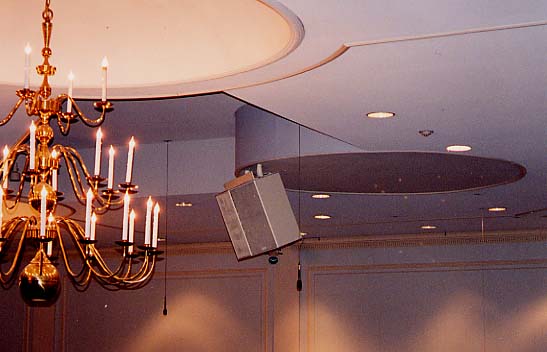 We designed and fabricated this speaker hanging bar and installed the EAW speaker cabinets according to our client's wishes.
We listened and we performed!
---
The Strand theater was converted over to a dance knight club with intrigate computer lighting, state of the art sound and rigging.
All rigging points for the lighting trusses were marked out on the floor first and then we used our lazers to pin point where in the
plaster ceiling the holes would be cut. Precise measurements had to be taken to make sure no mistake would be made.
Each hole had to be cut through the plaster ceiling at the correct positioning in relationship to the markings on the floor the first
time. There was no second chance. We also had to consider that each truss would be articulating at different angles when in motion
which could make the chain of the chain hoist rub against the plaster ceiling and we did not want that to ever happen.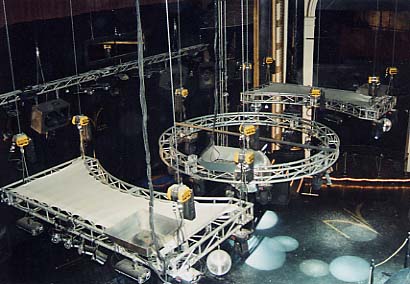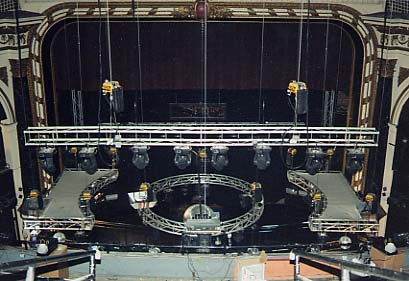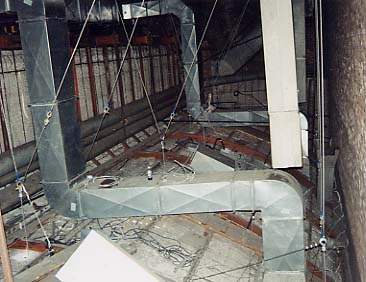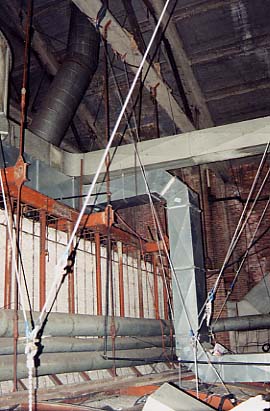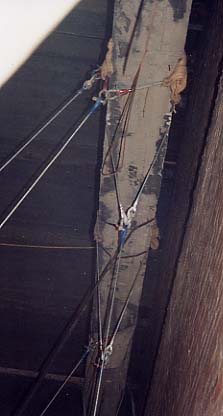 All bridles had to be precisely calculated so the chain of the chain hoist did not rub up against the hole
in the plaster ceiling.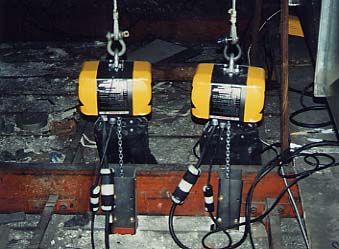 Two hoist's were installed above the plaster ceiling to fly a flag and a girl on a swing.
Because of the girl swinging on a swing, we fabricated and insert a steel square tubing with polyurithane padding
at the bottom of each tube so no wear would happen if the chain ever rubbed up against the tubing.
We positioned each hoist at a level to the ceiling so we could optimize the prevention of the chain not touching
the steel square tubing.
---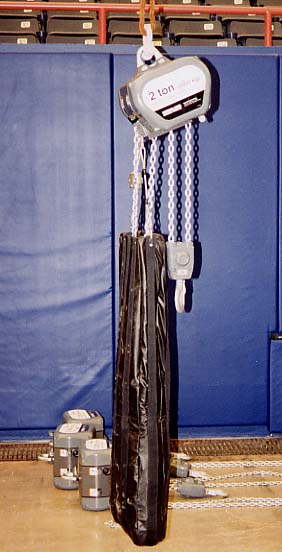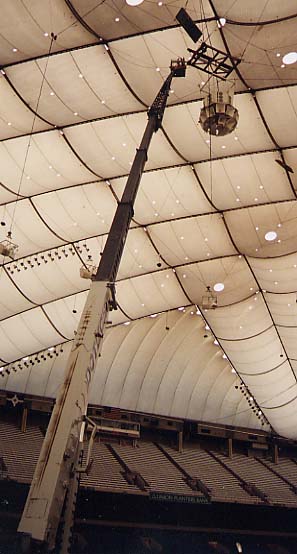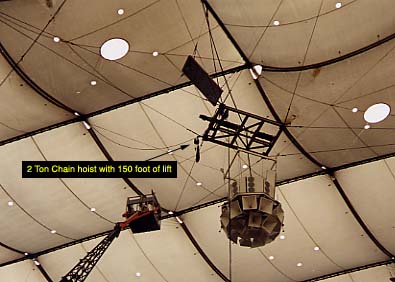 The RCA Dome
4 = 2 Ton electric chain hoist with 150 feet of travel was installed to suspend a new score board.
The control system that we designed for them lived 500 ft. away and all reversing contactors were
installed in the control panel, so the only cables going to each hoist was power only, of 460 volts
3 phase. We had to make a special chain bag for each hoist to hold 300 feet of chain.
---
Fall Protection Inspection at the Boston University, Agginas Arena.
Inspection of full length of each cable
and all connection attachment points.

Inspection of all fall protection lanyards, connections and harnesses.

Photo documentation when needed.

Inspection report of complete system.

Green Tagged for Passed inspection and Red Tagged for Failed inspection

Repair and replacement service provided for any failed inspection.
| | | | |
| --- | --- | --- | --- |
| We found short bolts and regular nuts at end attachment plate for one cable system that was not according to manufactures and engineering specs. We Tagged this cable system with a Failed Red Tag so it would not be used until repaired. | We replaced short bolt and regular nut with a longer grade 8 bolt and a nylon lock nut. 3 to 4 bolt threads should extend beyond nut for proper installation and the use of a nylon lock nut. | We found short bolts and regular nuts at end attachment plate for one cable system that was not according to manufactures and engineering specs. We Tagged this cable system with a Failed Red Tag so it would not be used until repaired. | We replaced short bolt and regular nut with a longer grade 8 bolt and a nylon lock nut. 3 to 4 bolt threads should extend beyond nut for proper installation and the use of a nylon lock nut. |
Why should you use our company to inspect your Fall Protection system other than the original installers? Because we may find incorrect installation proceedures that do not
conform to OSHA, ANSI, and the Manufactures specs. We have the credentials to inspect and to correct anyones Fall Protection System so it will conform to OSHA, ANSI
regulations and the manufactures specifications of installation.
Theater Inspections
We provide a comprehensive theater inspection of all components with a detailed report of our findings along with pictures and recommendations.
The Rigstar company will repair, adjust, replace as well as install any and all rigging components that need replacing to OSHA, ANSI
and manufactures standards if commisioned to do so as a seperate contract.
| | | |
| --- | --- | --- |
| | | |
| | | |
| | | We report all damage and misalignment of all rigging components that we inspect. Referencing OSHA and ANSI standards when applicable. |
In the pictures above we identify the amount of arbors to be inspected and operate each one for functionality. All puchase ropes, rope locks, arbors, tension
blocks, batten pipe weight, arbor tracks, shackles and wire rope clips & thimbles, Light rail, trim chain, lift lines, nico press sleeves are all inspected.
Note above that the arbor is bent downward and the arbor rods are bent as well. This is due to an arbor free falling down and crashing to the bottom
arbor rail which you can see in a picture below. You can see in a picture above that a thimbled eye on the top of the arbor is misaligned and has to be
corrected. A lot of the crosby wire rope clip nuts were loose and did not have proper torque applied for that size wire rope clip. For many years the trim
chain that have been installed in theaters to suspend their batten pipes were grade 30 proof coil which does not conform to OSHA regulations and must be
changed to a "Alloy Steel" chain because the chain is being used as a sling to suspend a load.
In this set of pictures you can see that wire rope clips were not spaced apart correctly and some of the threads of the u bolts were not extended through the nut enough meaning not having proper torque applied to the nut.
Lift line Fleet angles were checked and some were rubbing to much along side of the sheave wall that could cause danage to cable and sheave. All Head block were inspected.

Each upright loft block were checked for wear, sheave wabbling, secureness to grid and lift line threading. We found several lift lines installed outside the spacer pins which caused the cable to cut into the spacer pin and damage the cable.
We found a makeshift stopper for a lift line applied with a oval nico press sleave that could cause damage to cable and loft block spacer pin.
In front of house inspection are done as well when need be. In the pictures above all light
batten pipes were inproperly suspended and very dangerous. There was only one wire rope
clip at each end. For the size cable used the minimum would be 2 at each end. Also the threads
of a lot of the wire rope clip u-bolts were not extended through the nut, meaning that no one ever
used a torque wrench to properly tighten the nuts. Slippage of the wire rope tail could have happened
at any time if there was any dynamic loading or earth movement of the building.
In the above pictures the our inspection showed the Fire curtain was sagging down on stage right and hanging below the prosenium opening. The crank handle was not attached
to the J.R. Clancy hoisting system which is OK not having it directly on the shaft but it should be near by just in case to use. The theater could not locate the handle. Needed
to be replaced. The black curtains were severely damaged and needed replacing such as a back traveler on stage right and at stage left the curtain was torn from its carriages
with a portion of the curtain remaining. It needed complete replacing. Black legs needed replacing and some of the boarders as well which were ripped needed to be replaced.
Click on Video 512K below picture to view a short video of inspecting and operation of the Head Blocks and arbors.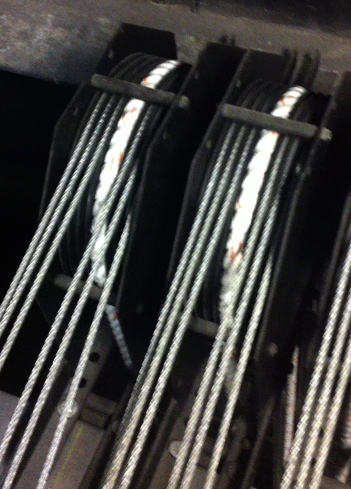 Fabricating and Installing 3 rigging points for a customers acrobatic training school for Silk and Lyra Aerial Hoops.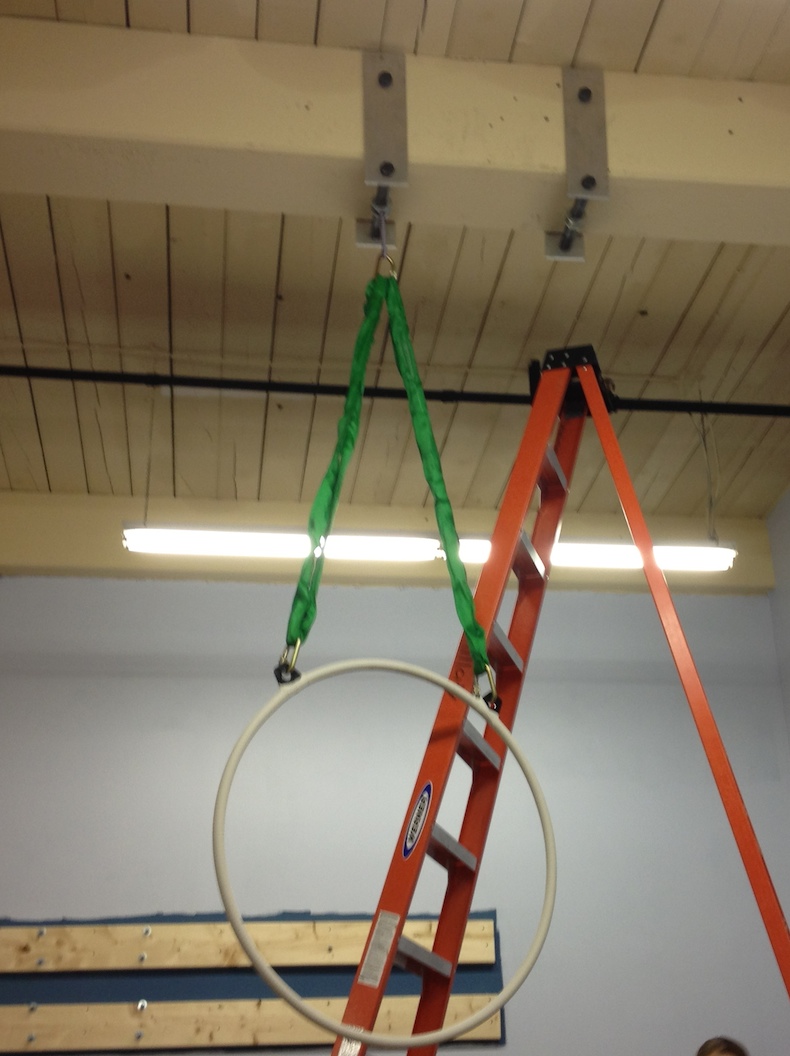 Rigging different shape Lyra Aerial Hoops and Silks for DSK CHK Fantazia 360 concerts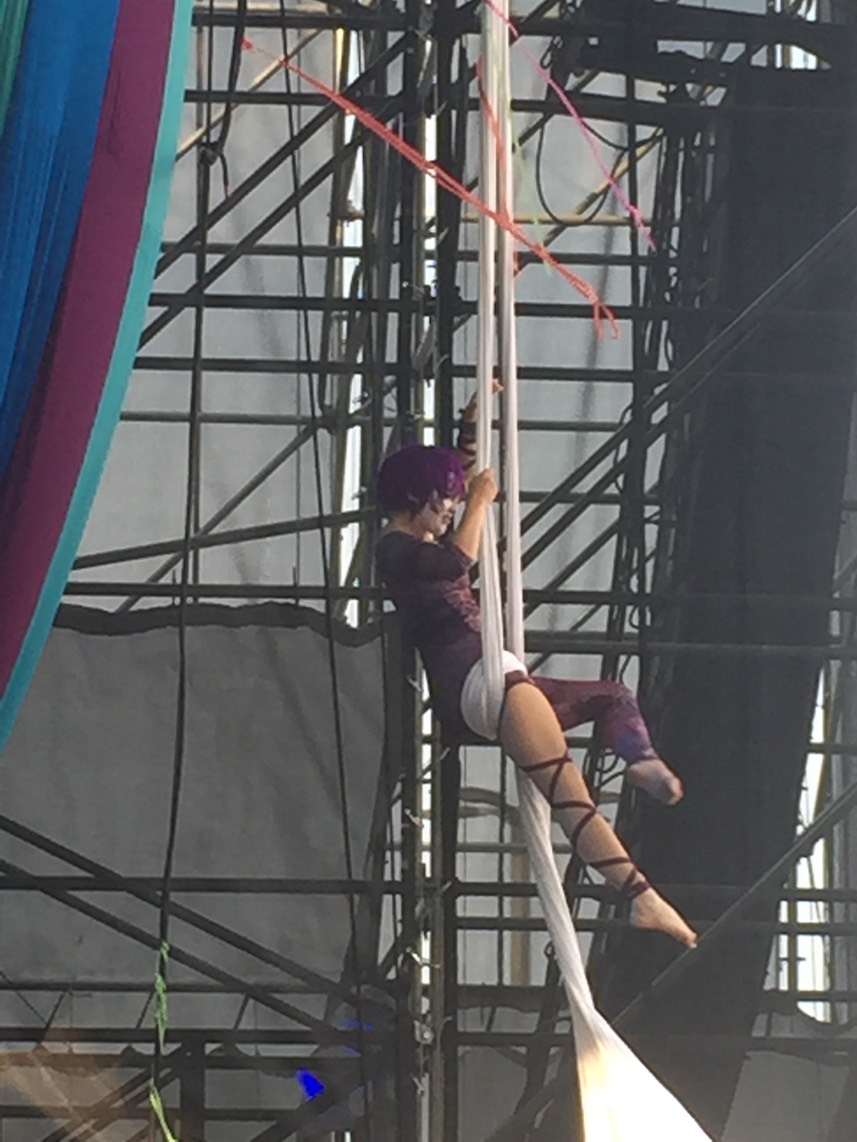 Eastern States Exposition Coliseum, West Springfield, Massachusetts - Video Screen Installation
Sight survey of the Coliseum and taking all measurements of the door opening and the building steel structure were done well in advance
along with being in touch with AD Systems LED to getting the complete specs of their video screen.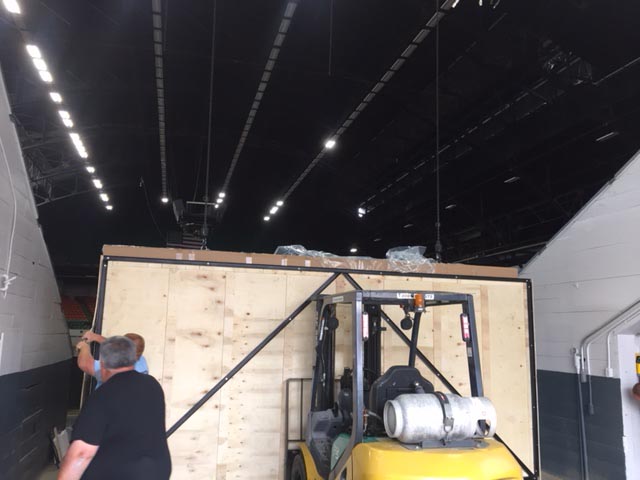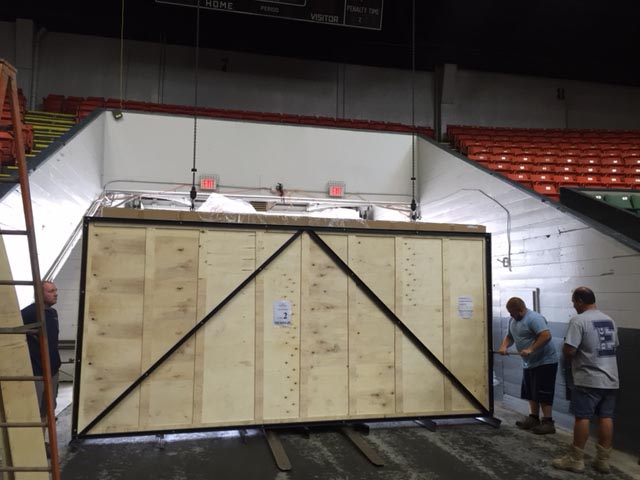 We had to first beef up the steel structure before installing 2 StageMaker electric chain hoist with a Rigstar control systems to suspend the video screen.
We coordinated and assisted in unloading the video screen and getting it set into place and then unpacking it and getting it prepped for hanging.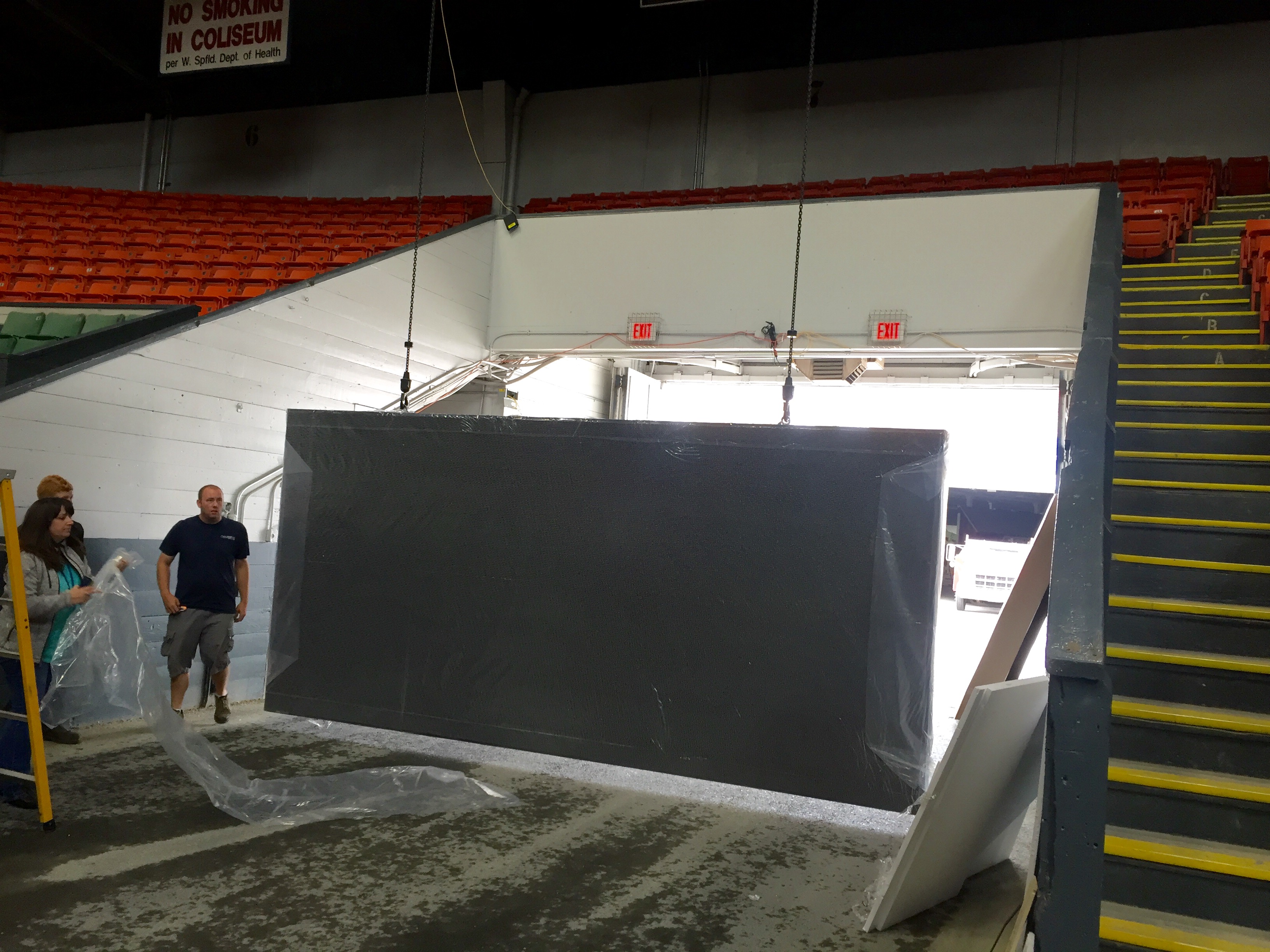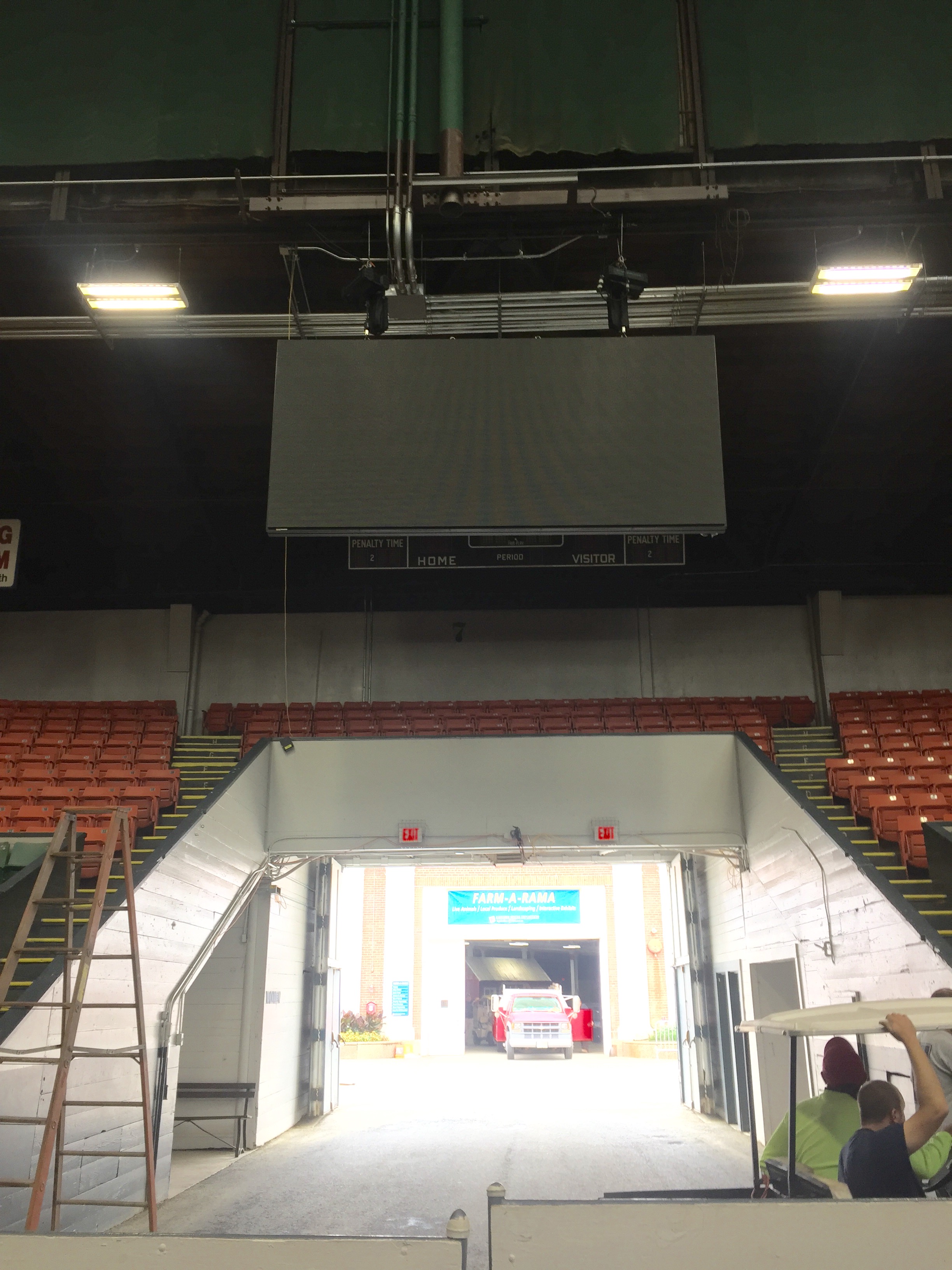 Cornerstone Church, East Longmeadow Massachusetts - Line Array sound system rigging Install
We had to conduct a sight survey above the church sheet rock ceiling to see if rigging was even able to be done.
I informed the Pastor, rigging could be done and that I would be able to come up with a rigging plan.
Photos and measurement were taken and we coordinated with Parsons Audio that was hired to install 2 RCF Line Arrays,
stage right and stage left.
We had to install a substructure to the building steel structure for the hanging points above the sheet rock ceiling on
stage right and stage left in order to suspend each bumper bar so the sound cabinets could be suspended.
Measurements and drilling had to be precise to thread the steel rigging cable that was going to suspend the bumper bars.
"It was a one shot deal to get it right" to place the line array exactly where our client wanted it positioned within their church.
"We made it happen" See pictures below.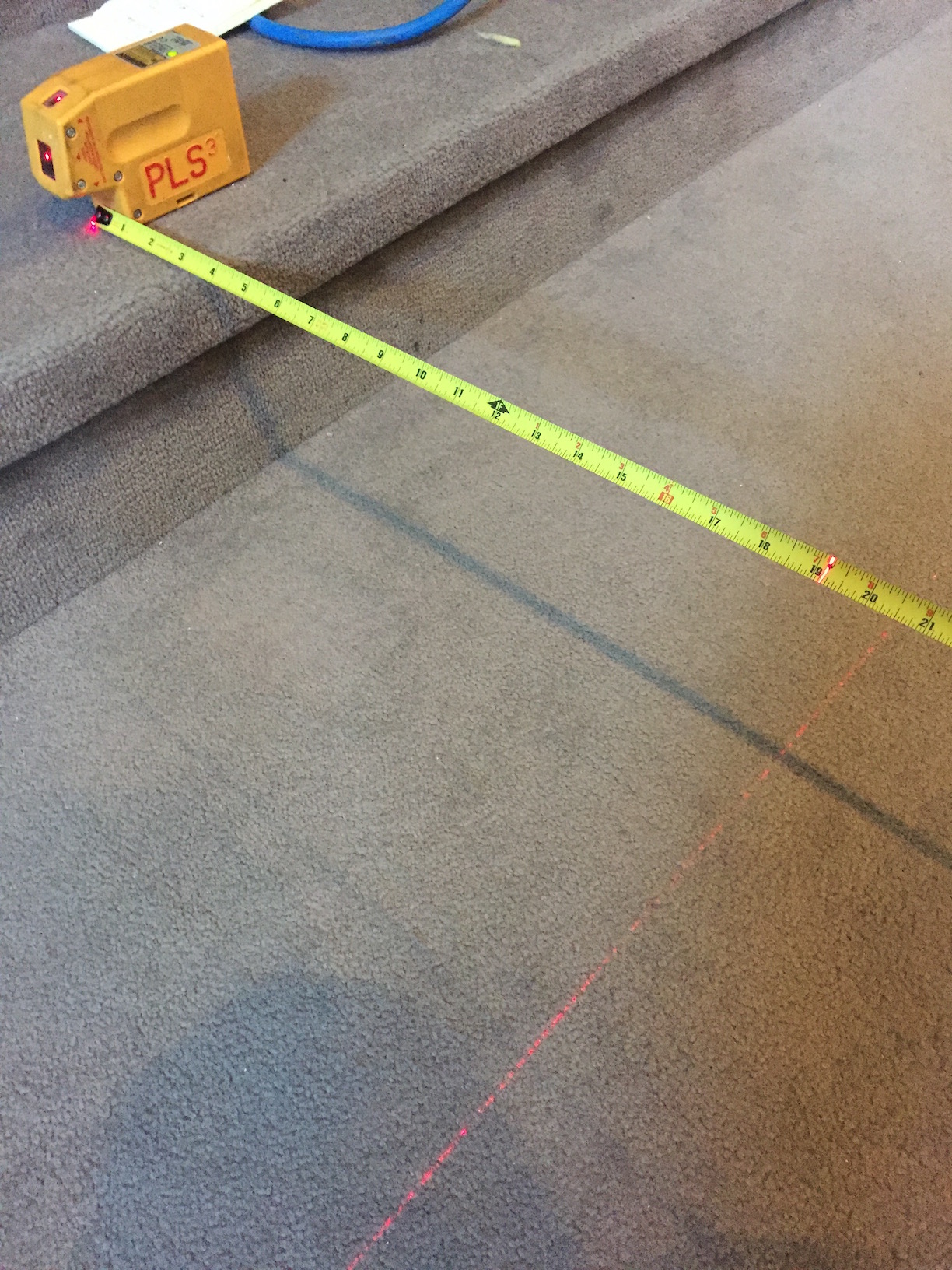 Line Array specs. ........Laser spotting and measurements for position of holes in the ceiling
and placement of the 2 Line Array speaker systems in relationship to the stage and the
existing video projectors at stage right and stage left.

Entrance through the sheet rock ceiling to get to the building steel structure at stage left.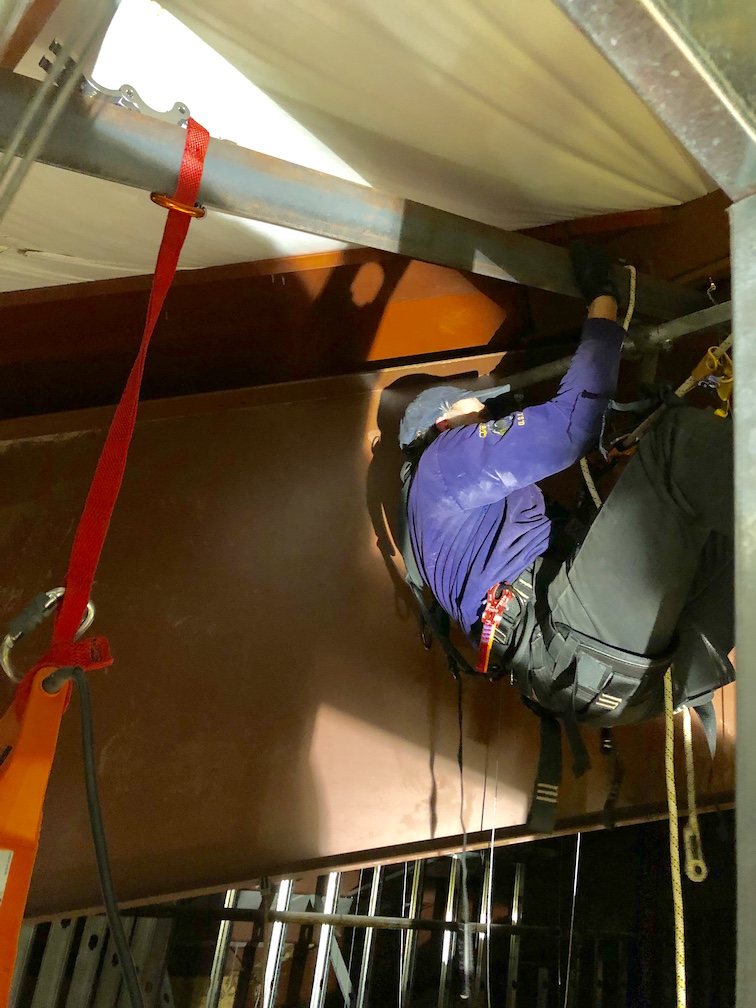 Getting into position to hang underneath the buildings angle iron steel structure.


Drilling holes through the angle iron to install substructures frame work.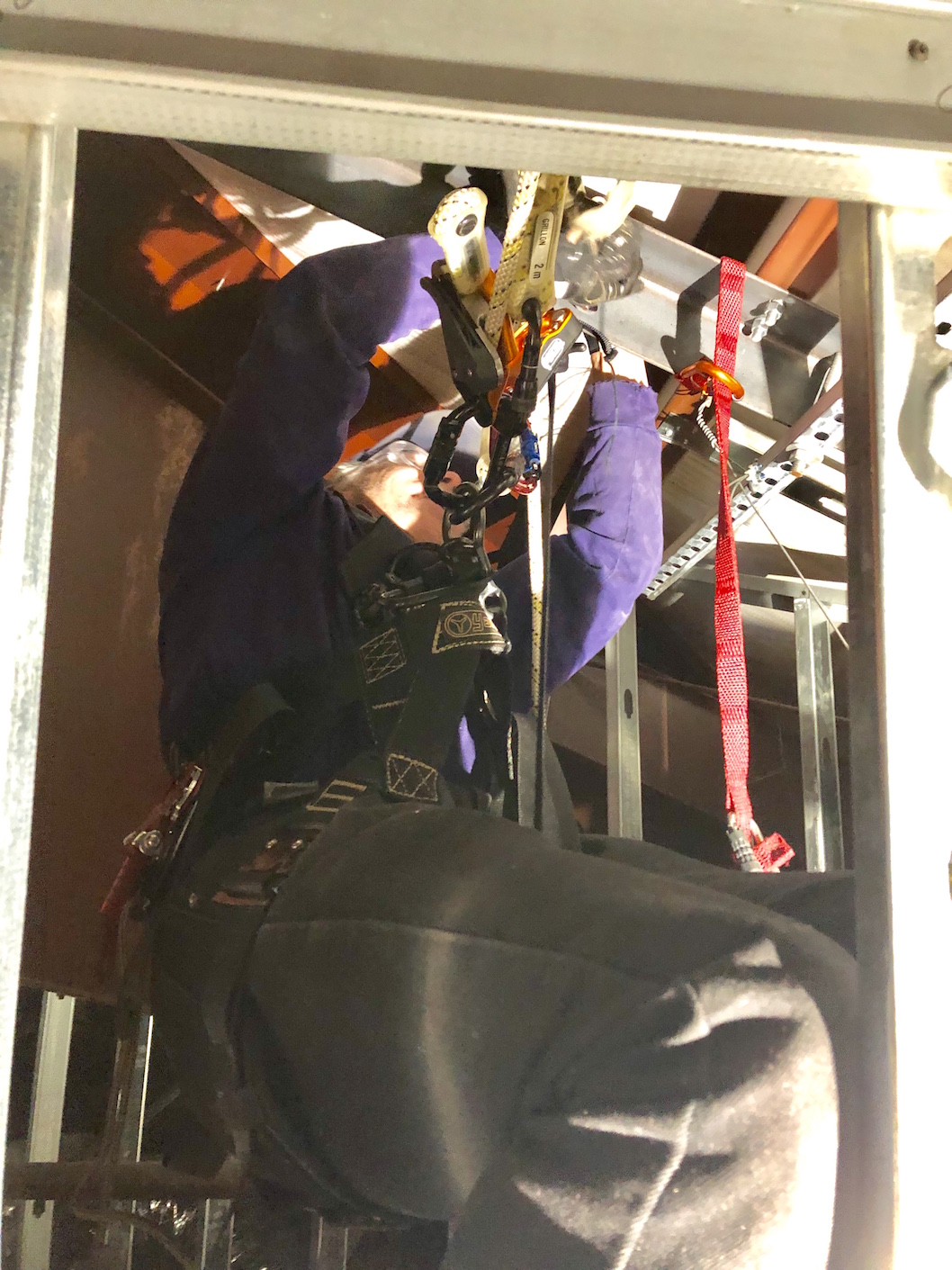 Installing pipe clamps to hold substructure in position.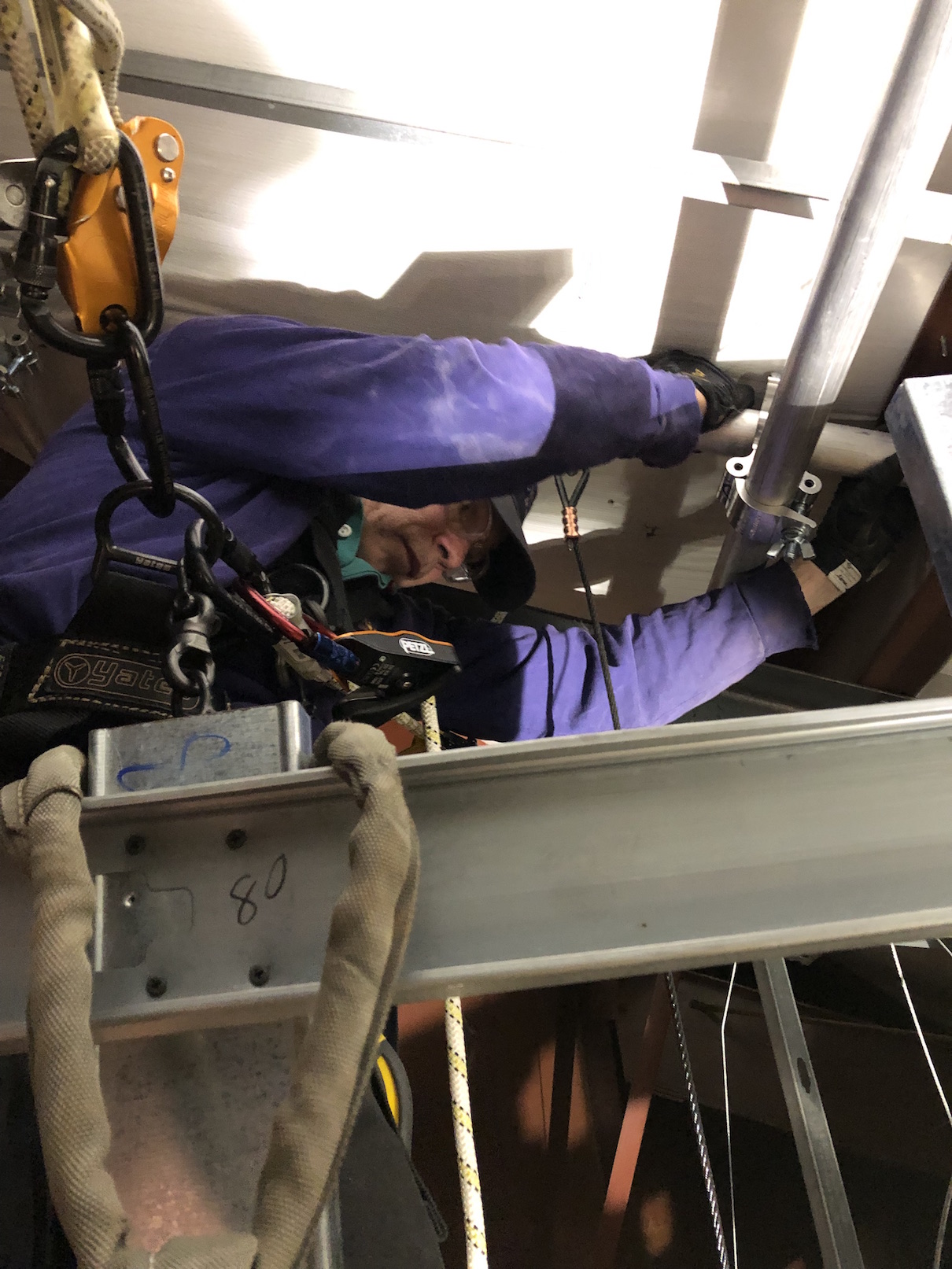 Adjusting the position of the pipes on the pipe clamps to get exact placement of the black aircraft cable to go through
the hole in the ceiling of the sheet rock. The aircraft cable will be used to suspend the speaker bumper hanging bar as
well as a secondary steel cable to prevent the line array from spinning.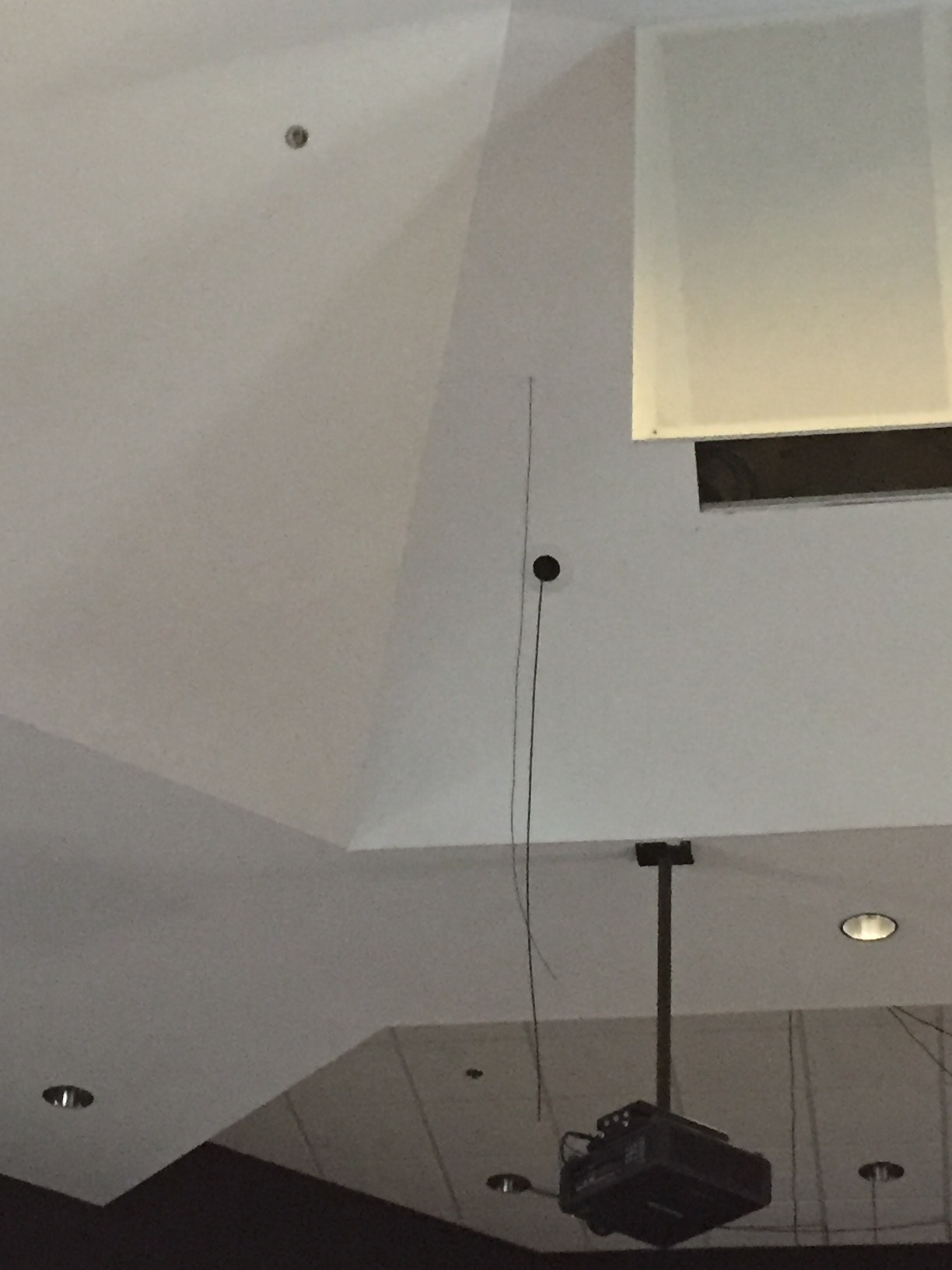 2 Black aircraft cables feeding through the ceiling sheet rock being prepped to hand the speaker
bumper bar at stage right.

Trimming the steel aircraft hanging cables for the final finishing touches after the angle and direction
was completed to Parsons Audio and the Pastor of Cornerstone Church liking.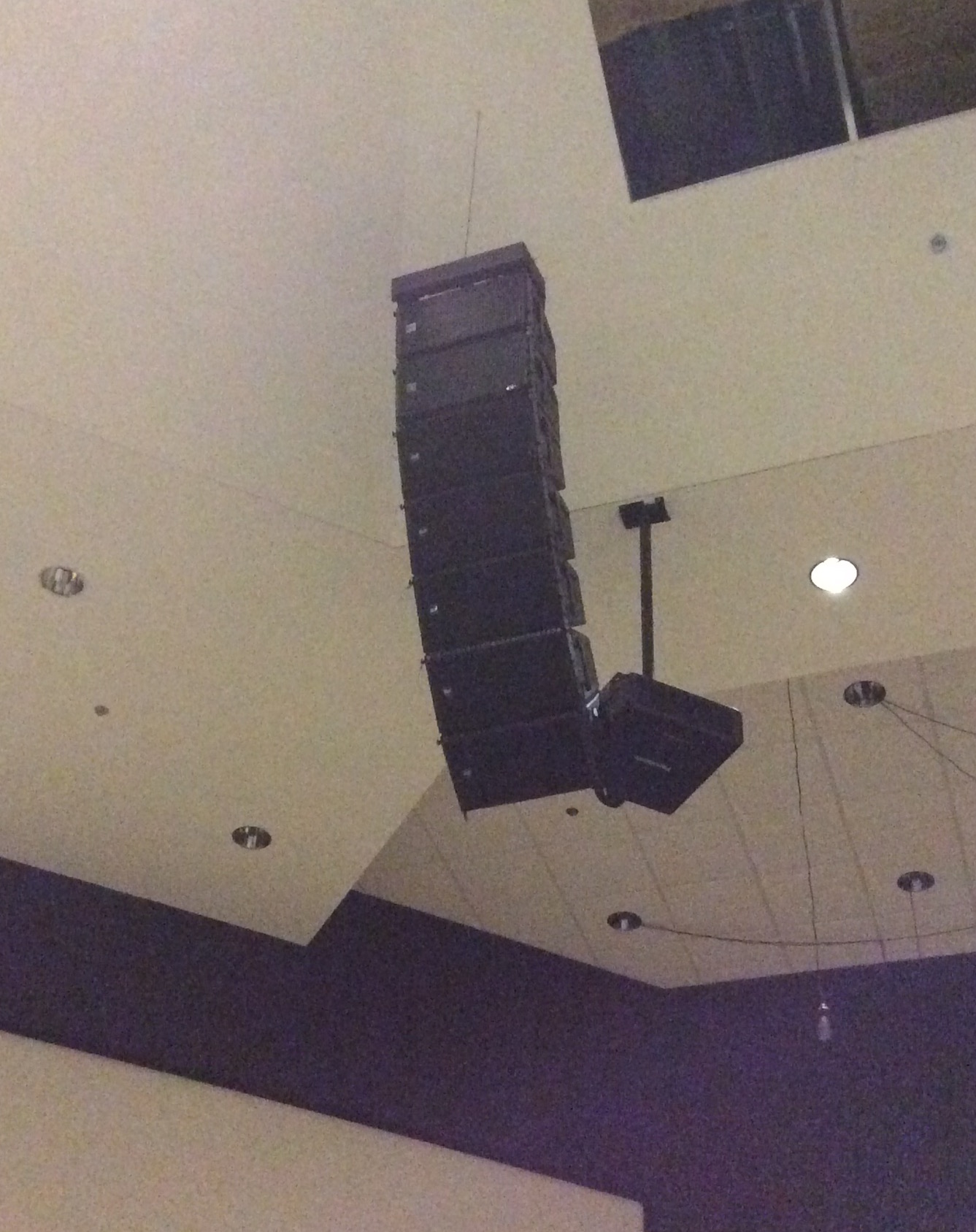 Stage Right completed Line Array hang.

Weight of Line Array dispersement through substructure clamps, building angle iron and finally to the building
Z roof purlins. Layout report to Cornerstone Church.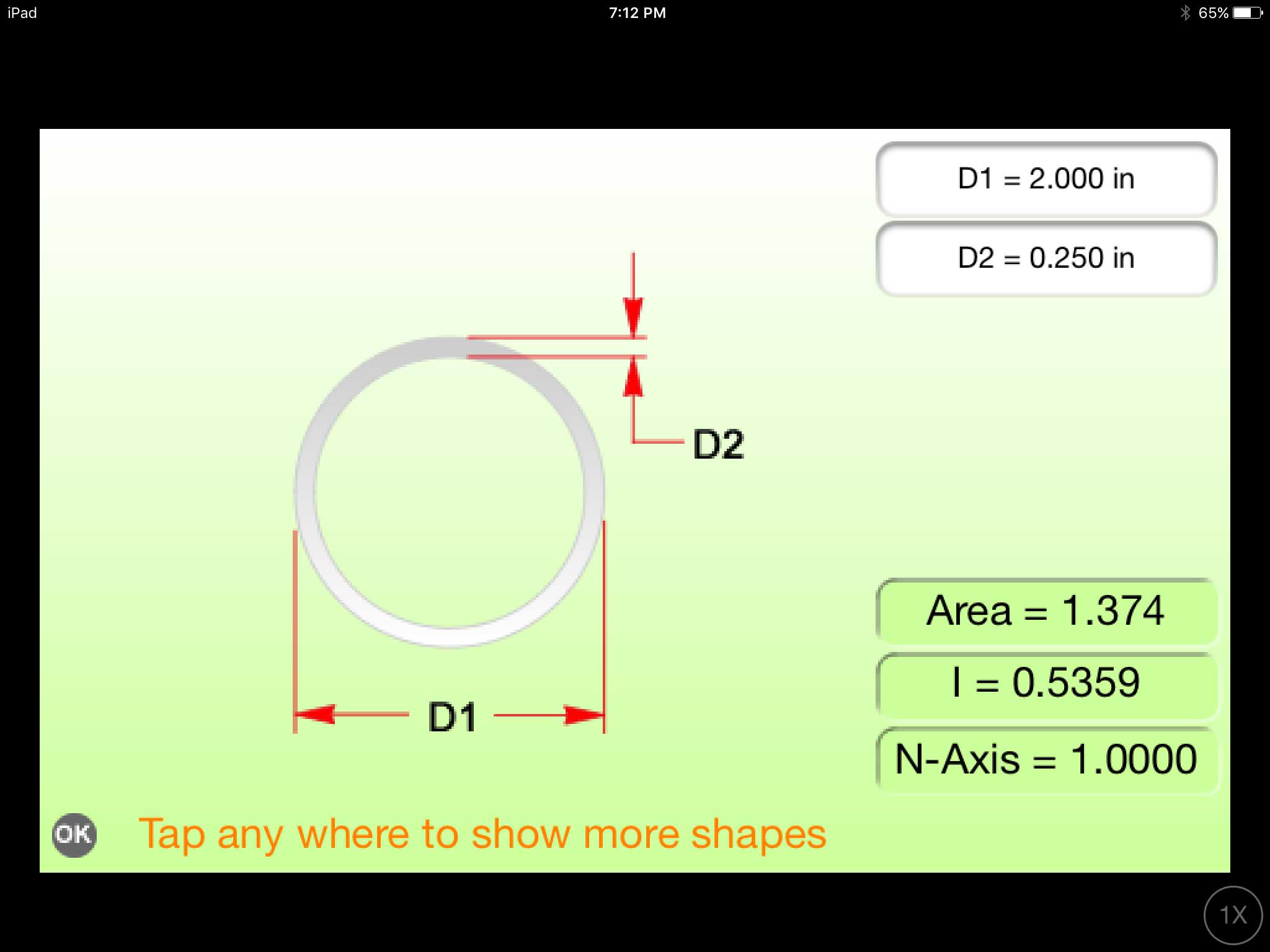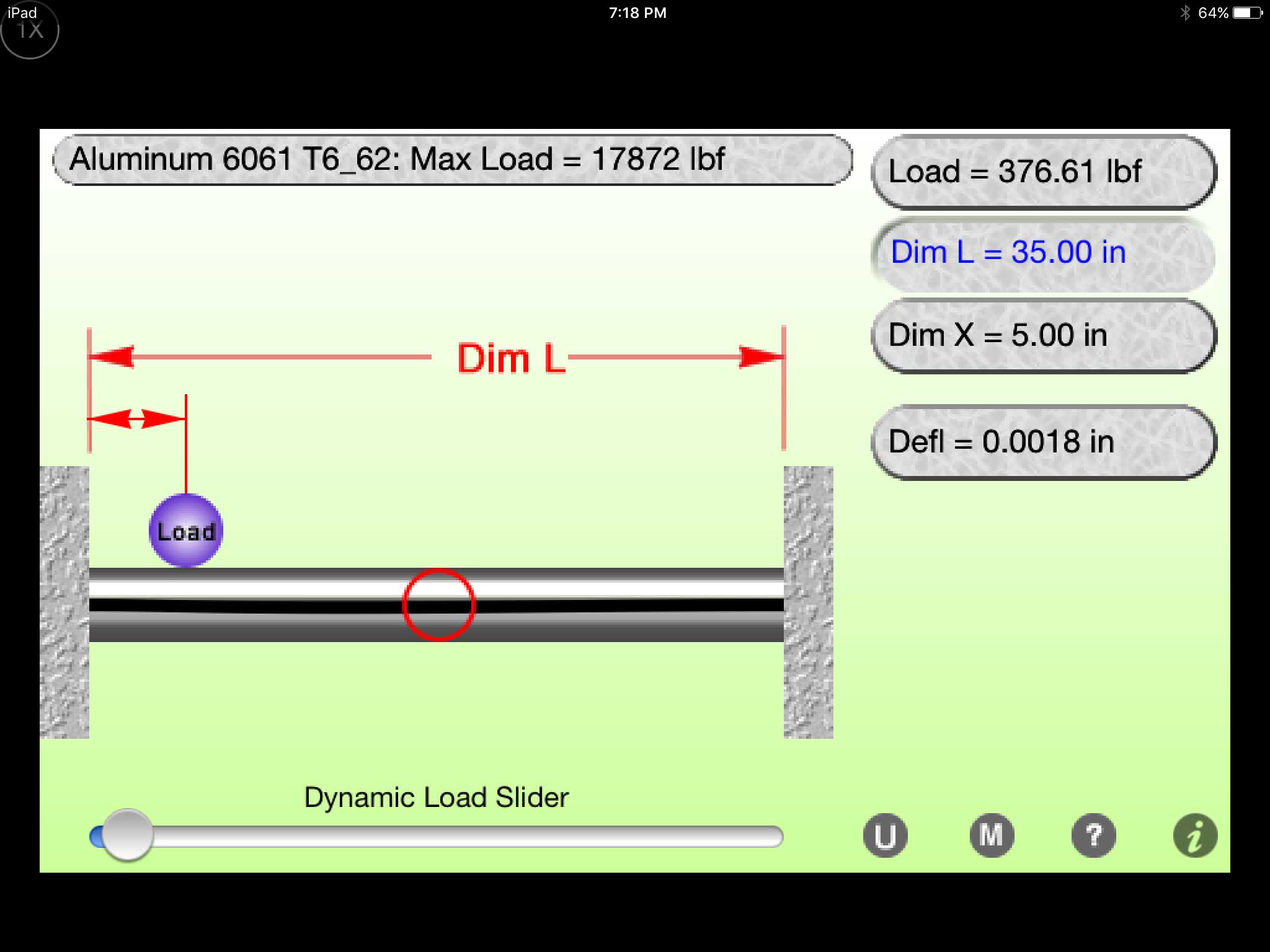 Calculating load dispersement of the Line Array throughout the installed substructure and building angle iron.
"Final result was another perfect rigging installation."
More to come. Please check back.